If you've got a denim jacket in your wardrobe that you've never worn because you're not too sure on how to make it work, here are some great ideas to help you out. The seemingly humble denim jacket can actually add a lot of flair and style to your outfit when used the right way. So let's find out how to do exactly that.
As a Neutraliser
You can use your denim jacket to break the clash of colour when colour blocking your outfit. The blue of the denim will help with subduing the other colours while still keeping the integrity of your colour blocking.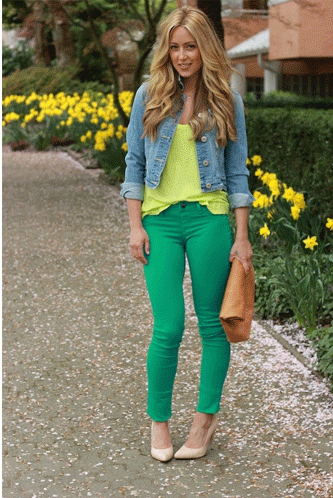 With a Maxi Dress
You can wear your denim jacket with a maxi dress. Yes, I know it sounds silly, but it actually looks quite good. Here are some photos to prove my point.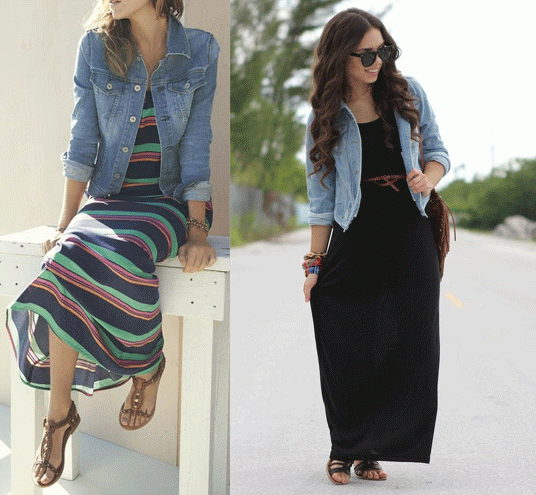 As a Contrasting Element
Wearing your denim jacket with a lace or tulle dress creates a cute contrast. The unlikely combination looks quite arresting when paired together.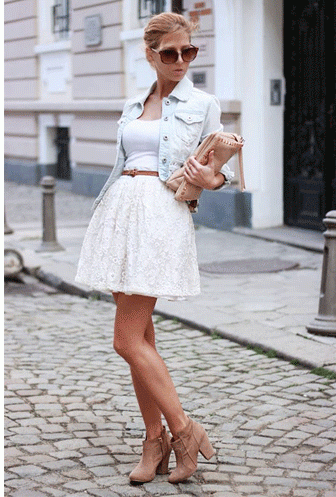 With Your Jeans
Wear your denim jacket with your jeans for a denim overload look. And don't worry overly much about matching the shades.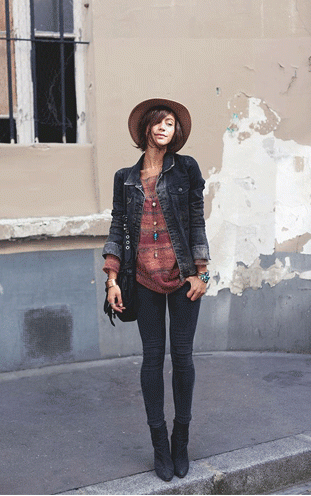 As a Middle Layer
When you're layering your outfit, use your denim jacket as the middle layer. The colour and texture adds more depth to your layering and makes for an interesting look.
[sc:mediad]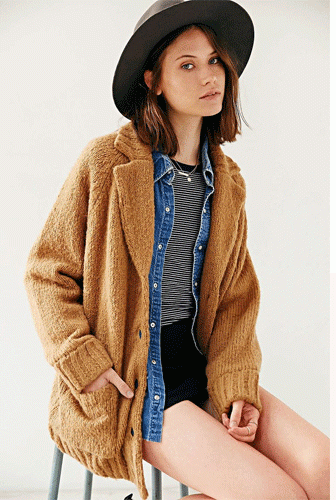 With a Long Skirt
I swear as weird as it sounds, this look actually is a very modern chic look. Wear your denim jacket with a dressy floor length skirt in a flowy fabric. This creates a look that mesmerising, with its unusual appeal.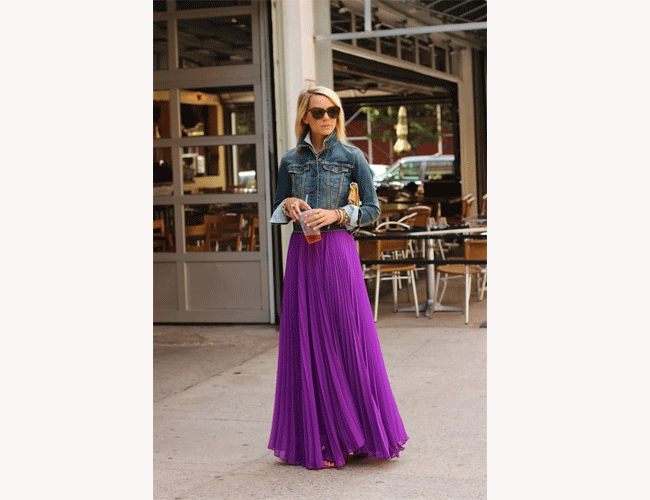 With a Crop Top
You have a crop top that you're not too sure about wearing; you have a denim jacket that you're not sure about how to wear. Sounds like a match made in heaven, doesn't it? Well, it kind of is. The denim jacket and crop top combo is a great way to wear a crop top without worrying about showing too much skin.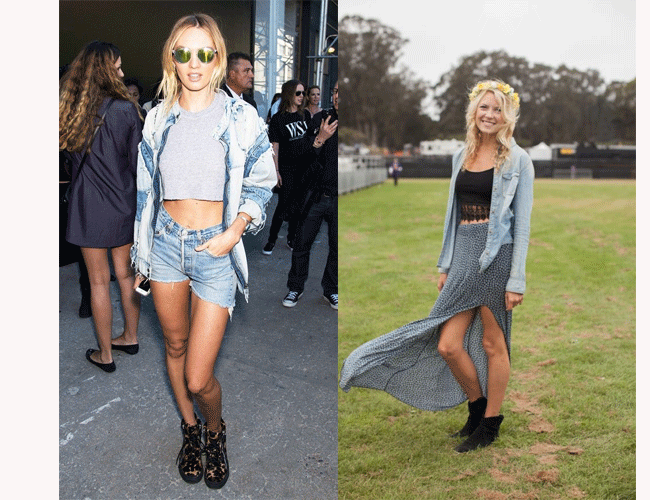 With a Jumpsuit
Cameron Diaz and Kate Hudson show us that putting on a denim jacket over your jumpsuit takes the whole look to another level. And pssst… It's also a great way to hide it if your jumpsuit is not a great fit.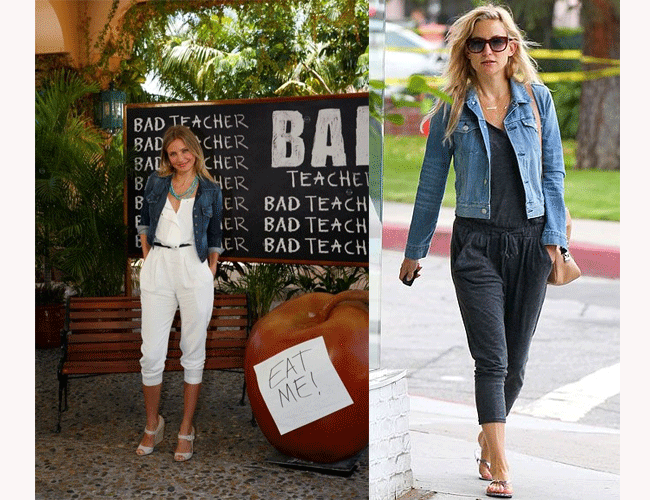 With a Summer Dress
This shouldn't come as a surprise after seeing denim jacket paired with a maxi dress. Denim jacket paired with a short summer dress looks great, offering you a layer that you can put on or lose depending on whether the day turns out to be cool or humid.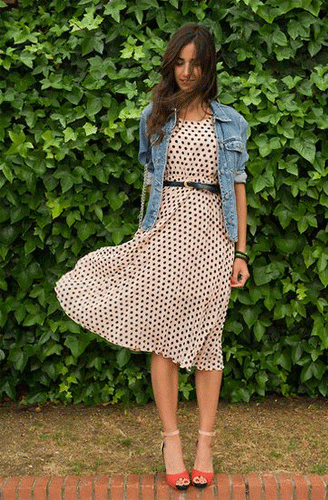 With High-Waist Clothing
If you have a short denim jacket then pairing it with a high-waist jean or a skirt will create a trendy look. This look will make your legs look long and that's a great thing if you're a little short and could do with the illusion of longer legs. Not to mention, this look is great for photographs as it looks so stylish yet casual.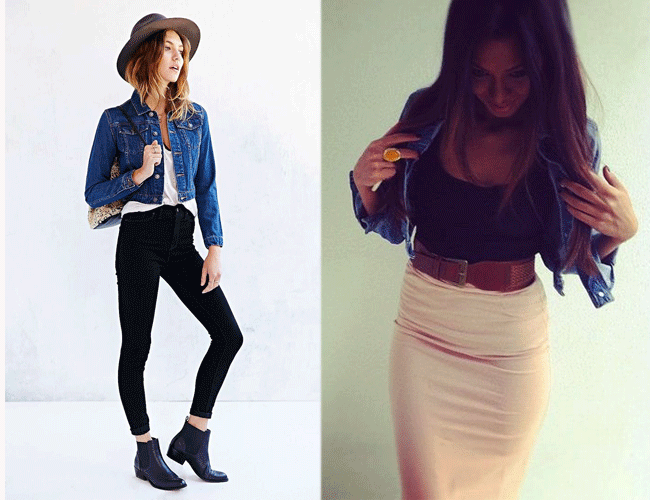 Now that you have so many different looks to try out with your denim jacket, get it out of the wardrobe and try out a new look every day. Over indulge and wear your denim jacket all seven days a week, no one can complain when you come up with such diverse looks. Go ahead, make the denim jacket your signature style and get busy instagramming your awesome looks.
Images Source: pinterest.com