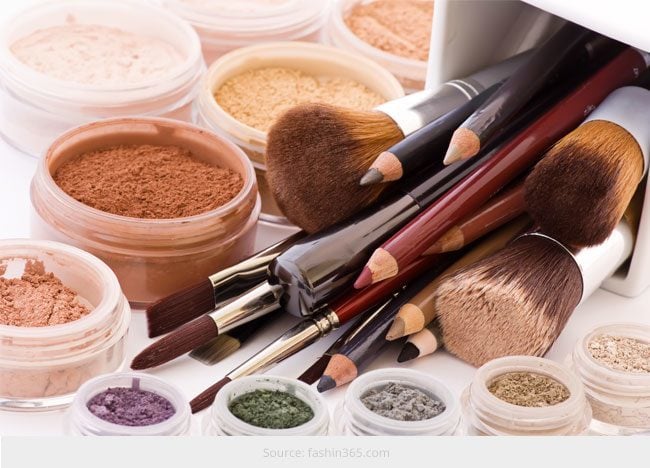 You get compliments every time you wear your favourite True Orange lipstick; or you tell your friends about your mascara tube that just doesn't seem to finish. What a wise purchase it was! Sure it was; and True Orange lipstick really suits you. Everything is fine until the time factor comes in. Have you ever wondered how long your beauty pieces have been lying in your purse just waiting for that last dab or stroke? Or, what happens if you use expired makeup products? You will definitely be utilising your products till THE END, but also end up affecting your skin and your eyes big time. We are sure that is not why you picked up those pretty objects off the rack. Read on to know when is the right time to throw away your makeup, and also, how to know when makeup has expired, regardless how much of it is remaining and how much you spent on it. Nothing counts more than good health.
[Also Read: How to Clean Makeup Brushes]
1. Mascara and Liquid Eyeliner
Let's begin with the tubes, which have the least life-cycle. Your mascara and liquid eyeliner dry off in 3 months. Even if they don't, they are more harmful as you apply them close to your eyes. As time passes these products are exposed to airborne bacteria which you reapply on your eyes repeatedly. This can cause itching, irritation, redness in eyes and even conjunctivitis. Buy new ones every 3 months.
Indicator of foul: When your mascara or eyeliner smells bad or rancid, has a strong alcohol scent and has dried up just toss it away.
2. Lipstick and Lip Gloss
Lipstick is blessed with longer life; good for ones who simply can't do without it. A lipstick can last up to 2 years as long as it smells and looks good. Same goes for lip gloss. You can periodically clean them, wipe them and spray alcohol to keep them sanitized.
Indicator of foul: Change in colour, texture and bad smell quickly says it is time to get rid of them.
3. Foundation
Standard shelf life is 2 years. This however varies depending on whether it is liquid, powder or oil based. The oil based for instance tends to break faster than the solid ones.
Indicator of foul: The formula starts to separate, colour changes, smells different or thickens – all this tells you to buy the latest ones.
4. Nail Polish
If you think that nail polish lives forever then you are wrong. You can definitely keep them up to two years in a cool and dry place for their better stay. Add a touch of nail polish thinner to give it some longitivity.
Indicator of foul: Nail polish changes texture, separates and thickens; even shaking the bottle cannot take care of this.
5. Pencil Eyeliner and Lip Liner
Again a cosmetic to be very careful with, as this reaches your eyes and mouth. But the biggest plus is that pencils can be sharpened and refreshed. They can stay in your purse for three years.
[sc:mediad]
Indicator of foul: They too change texture, smell differently and reveal a stubborn white dot at the end.
6. Perfume
They look so pretty on your shelf with a petite appearance, that it takes courage to even think that they might have a shelf life. Unfortunately they do. Your nose is the best judge.
Indicator of foul: If the odour changes its time you keep them only as mementos.
[Also read: Makeup mistakes that are making you look 2 years older]
7. Concealer
It helps you cover the flaws only till the time it flaws up your face. Concealer stays good for a year.
Indicator of foul: When it becomes dry and flaky toss it in the bin.
8. Blush
Blushes usually stay good for 2 -3 years but cream ones live only for a year. After that they simply stop working.
Indicator of foul: Powder ones become drier and flatter. If they start to get a film over them, do not think twice before throwing.
9. Brushes
You may be well versed with the beauty guide on makeup brushes and how to use them. It's time to educate yourself on when to toss them in the bin, as well. Dirty brushes will irritate your skin, while old worn out brushes just won't get you the right look. Clean them every two weeks with shampoo or olive oil, gently massage, rinse and lay flat on its side to dry.
Indicator of foul: When the bristles start to fray or fall out its time to buy new ones.
10. Body Lotion
The ones in jars expire faster than the ones in bottles with pumps; as the latter protects the lotion better from airborne bacteria.
Indicator of foul: Lotion changes colour or scent.
Be aware of all your cosmetics expiration dates and you will not only look more ravishing, but your skin will be happy too. If the thought of having to spend more is bothering you, then keep aside a small amount for a few months. That will take care!