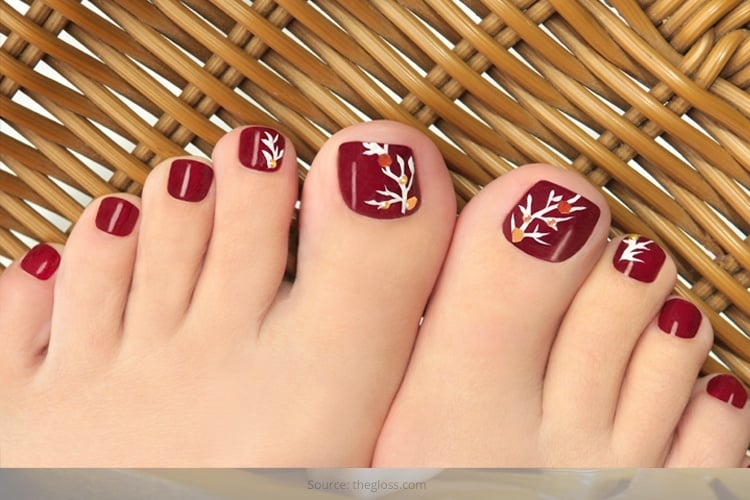 Beauty is not just about polishing face or hands. It is also about sprucing up the toes. Now that we are in the thick of winters doesn't mean we neglect our dainty looking pretty feet under closed sandals, bellies or boots. Irrespective of the season, our toenails should always feel ready to be exposed to attention any time.
[Also Read: Festival Nails Designs For The Toe]
So engrossed are we by fashion developments that we forget one simple thing. That easy toenail designs do it yourself is the hottest trend today which gives you loads of opportunities to showcase your creativity and imagination on nails. Between super cute to sassy, there are various options in toe nail art designs that are hard to wish away and neglect.
Nail Art For Long Toenails
Now is the time to convert your toenails into tiny little masterpieces which are easily achievable to do at home. Try nail art for long toenails and you will only begin to love your toe nail art design like never before. Here we go.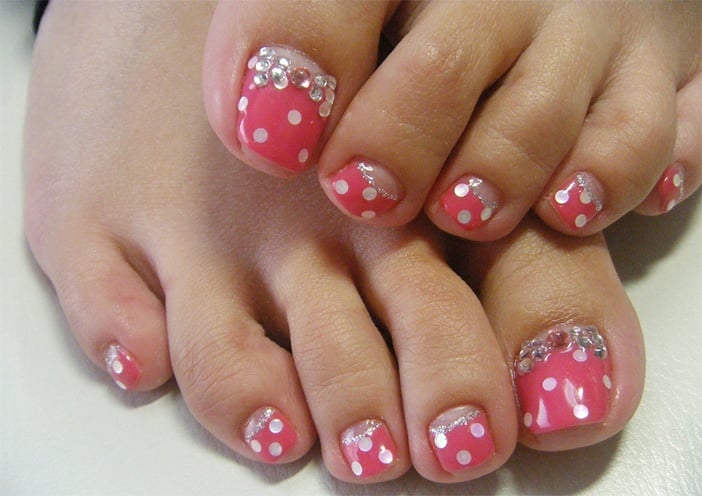 1. Geometric Toenail Designs
There isn't any abracadabra involved in making geometric nail art for long toenails. You can do it easily by using small pieces of tape or for that matter a pointy paintbrush.
When it comes to options in geometric toenail ideas, there are vertical lines, dots, chevron patterns and tribal motifs. Just use a light or colorful base to your liking, and follow it up by painting geometrical motifs using a darker shade.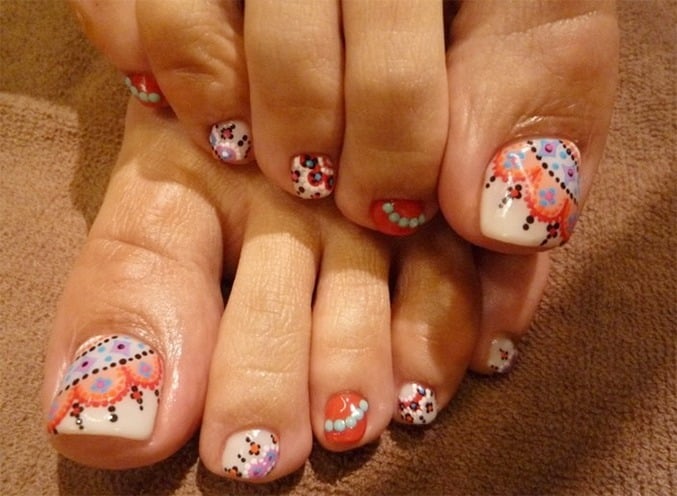 2. Rhinestone And Crystal Toenail Ideas
If you want your feet to be the talking point among glitterati and Page 3 star-struck wannabes then Rhinestone and crystal foot nail art designs is the perfect launch pad for you. All you need is a bit of time and patience and you will notice it's worth the effort.
To get this pattern, start off by painting your toe nails in the desired shade. Then apply rhinestones or crystals (whatever your choice is) on your toe nails. Seal it off by using a clear top coat in order to prevent the rhinestones and crystals from falling off and ruining your effort.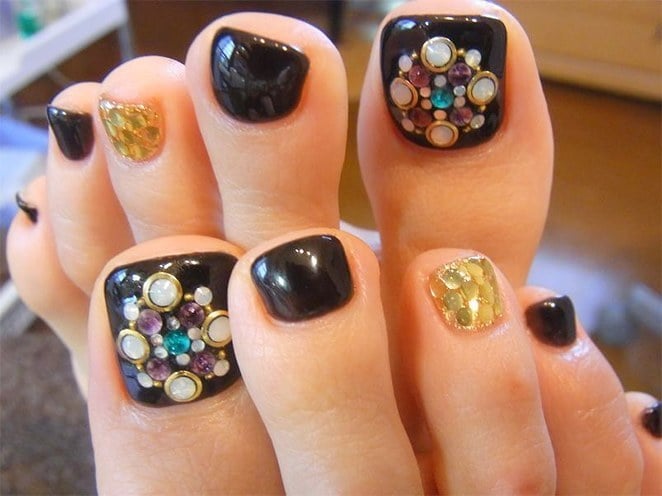 3. Glitter Toe Nail Designs
Glitter glitter on the nail and there is no reason why it should fail when it comes to simple toenail designs do it yourself!
If you were to identify popular trends in toe nails, then glitter nail art comes very close. Paint all your toes in various shades, but make the big toe the accent nail by putting a gorgeous glitter.
[Also Read: Fabulous French Pedicure Ideas]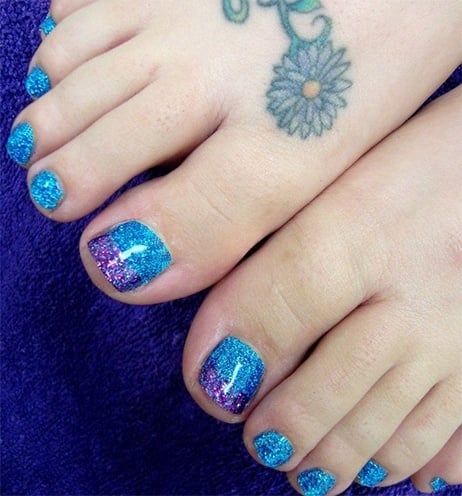 4. Two-Tone Toenail Designs
One of the easiest techniques to easy toenail designs do it yourself is the two-tone one. Perfect for beginners, all you need to do is to pick two of your favourite nail colors. But keep it in mind that they should be contrasting ones so that they can give you a nice and contrasting color-blocking effect. Now paint two diagonally divided areas in two different colors.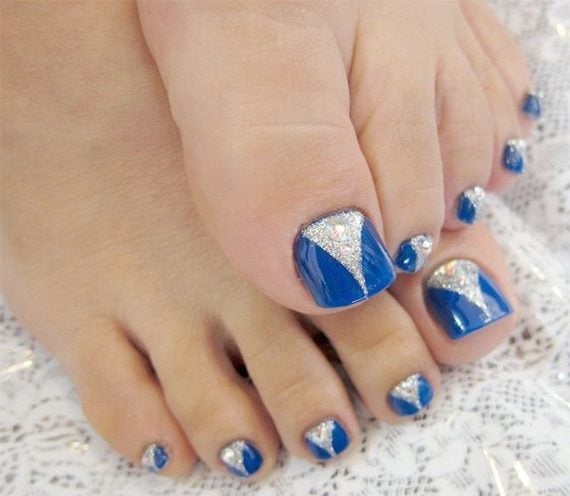 5. Polka Dot Toenail Designs
Girls can never grow up, whether it's wearing polka frocks in childhood days or polka toe nails in teens and adulthood.
Cute and trendy, polka dotted foot nails patterns can be obtained easily. Just choose a shade of lighter base such as white, cream, pink or blue.
[sc:mediad]
Once you have painted your toes with this lighter shade start creating simple polka dots in a darker shade by using either the tip of a brush, toothpick or a dotting tool.
To get maximum effect and output, see to it that the polka dot shades you choose are of a contrasting color.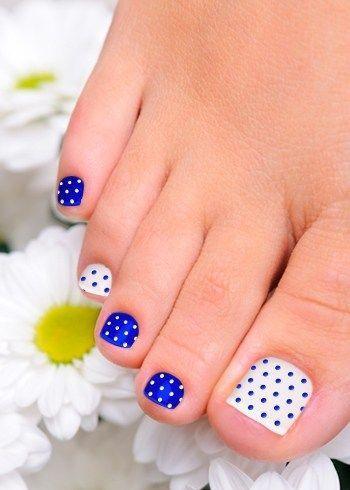 [Also Read: Nail Art]
6. Flower Toenail Patterns
Make your delicate toes dainty and pretty by creating flower toenail art designs. You need a brush to draw the petals, and a small dotting tool to create the centre of the flower and tiny dots around it. Isn't it super cute?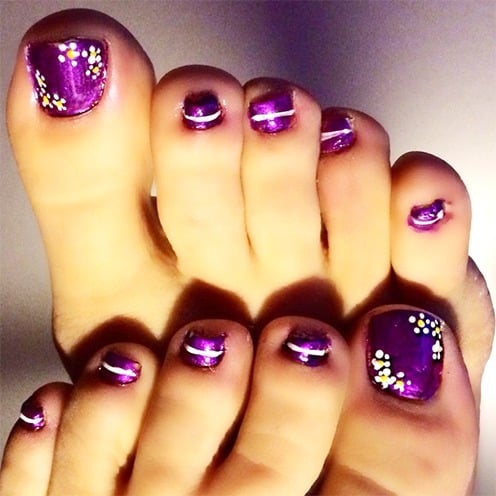 7. Striped Toenails
Stripes look good as toenail designs. The best part is that it is easy and quick to make. Paint your nails with a base color. Then put a stripe tape in a horizontal fashion across your nail. Keep applying more strips in order to create a unique look. Towards the end, apply a top coat so that the strips stay back in place.
[Also Read: How to get rid Toenail Fungus at Home]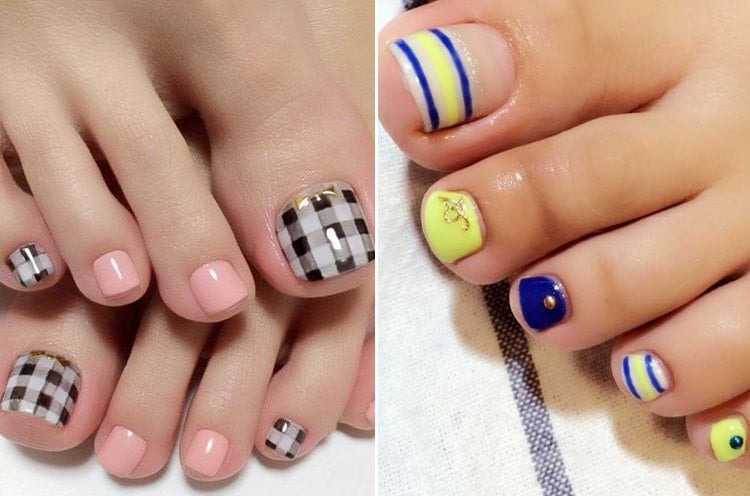 8. Animal Print Toenail Nail Art
Stylish and cheeky these are. Just create a base coat on all your toe nails and then draw a leopard or zebra pattern on the nails by using a nail art pen.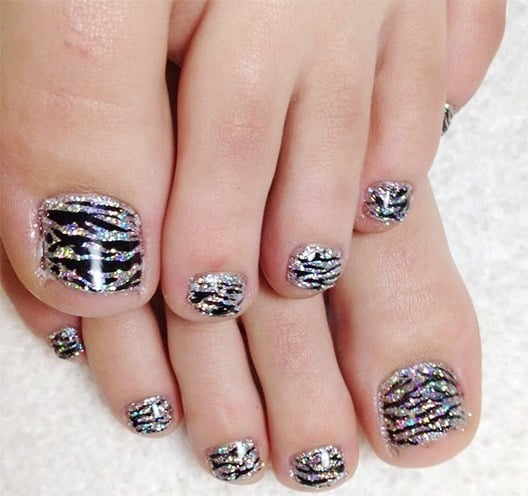 9. Pastel Toenail Ideas
There is a different kind of high you will get by keeping your toe nails looking fun and playful in pastel colours.
All you need to do is pick a couple of pastel colours that look nice and chic and go well with each other and coat each of your toe nail with it. Wear these pastel nails with black peep toes and you will see how the contrast will make you look stunning.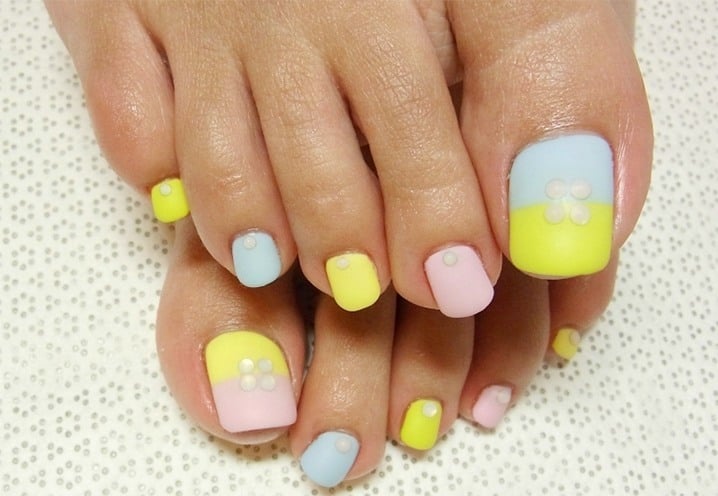 10. Cute Bugsy Toenail Designs
Fulfill your desire of getting cute toenail designs by painting those adorable lady bugs on your toenails.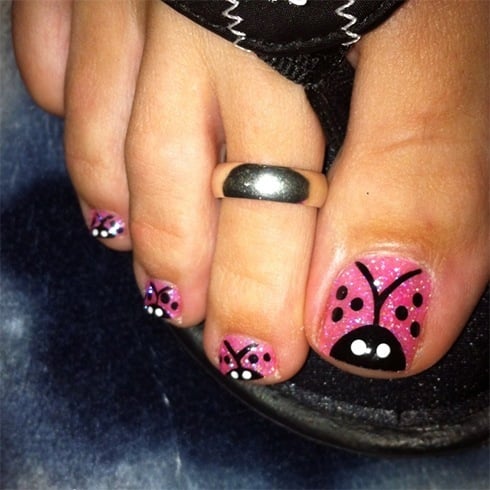 11. Cartoons Toenail Designs
Another popular toenail idea that you can try out is painting your favourite cartoons on the toenails. Have a sleepover with your girlfriends and have an amazing time trying out different cartoons on each others toenails. From minions to superman to Disney characters – your options are limitless.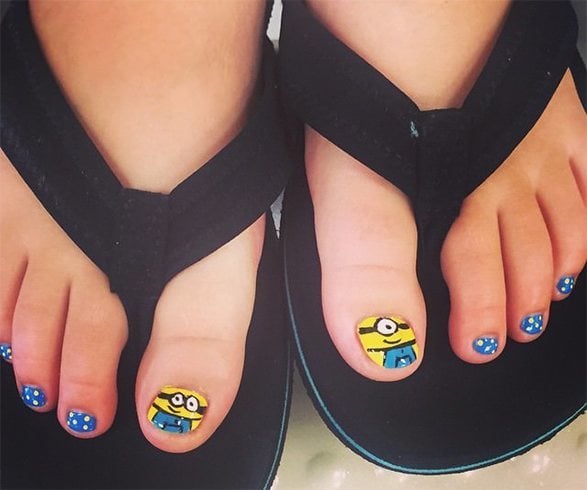 12. Contrast Toenail Designs
To achieve this look all you need is your imagination and two different colored nail paints which are in contrast with each other. Check out these black and white painted toenail designs. You can either opt for a simple design or take a professional artist's help to get this intricate rose painted on your toenails.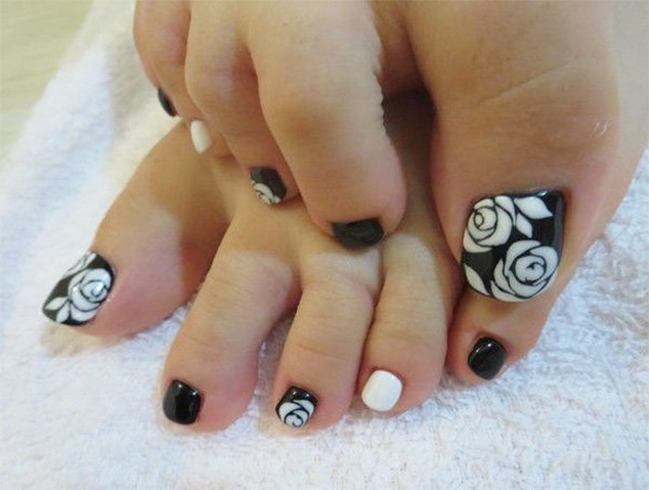 13. Neon Toenail Designs
Go crazy with your toenail patterns by opting for neon colors. Check out the below toenail design to get some inspiration. Use neon orange as the base for your toenail paint and add a design on it using a black nail paint and a nail brush.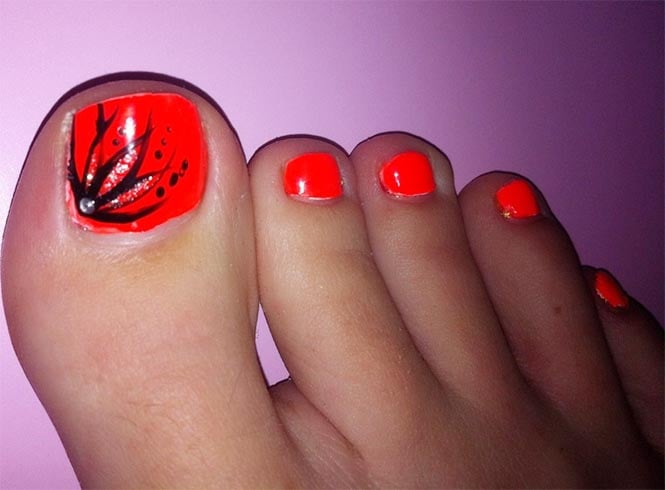 14. Colorful Glitter Toenail Designs
An easy toenail design that can be achieved without too much of fuss is to paint all your toenails with different glitter colors. This is a great toenail pattern for people who love bling but are hesitant to use rhinestones or crystals.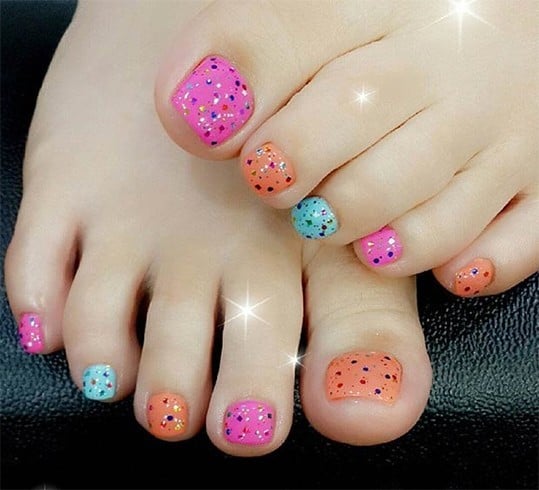 15. Tribal Toenail Designs
One of the currently trending toenail ideas is the tribal designs. The tribal toenail patterns are endless and we are sure that you can come up with a number of unique nail art designs. These designs can range from simple to complex. It's up to you to decide which toenail design you would like to flaunt.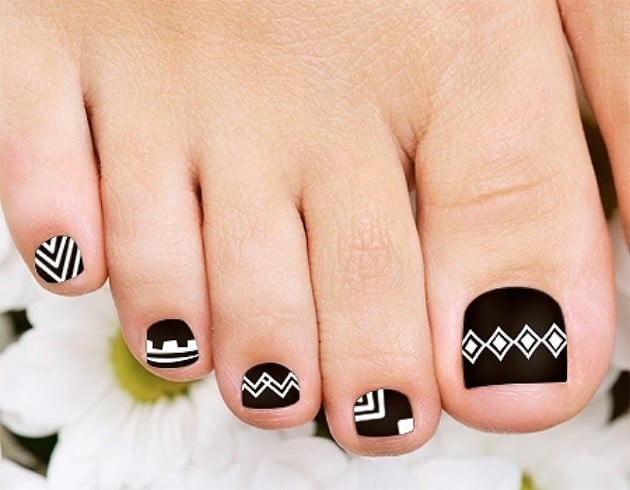 16. Nude Toenail Designs
Be it lipstick, foundation or any makeup, nude is the most promising and sought shade. This trend has now moved onto even toe nail art as we can see. Apply a shade that is very close to your skin tone and add glitter, pattern or any other art form on it for some bling.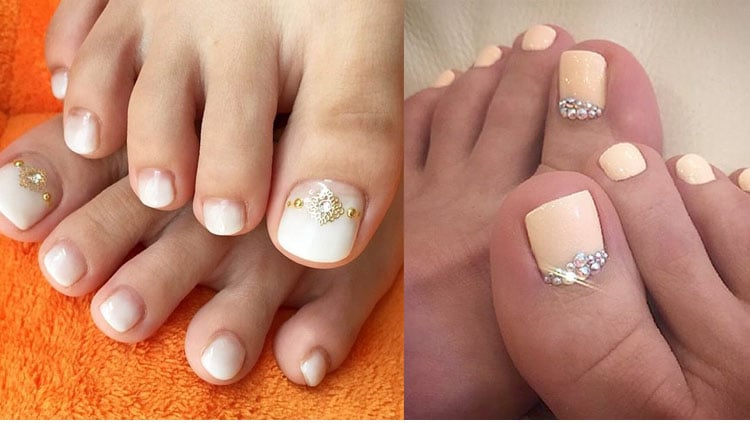 17. Neon Polka Dots
When summer kicks in, bright and flashy colors kick in too. If you notice, the ones that speak this strong dialect are the neon colors. Spring these hues alternately on our toes without any doubt as it will go nicely with any outfit. Go with the simple toe nail art preferably polka dots which requires less assistance.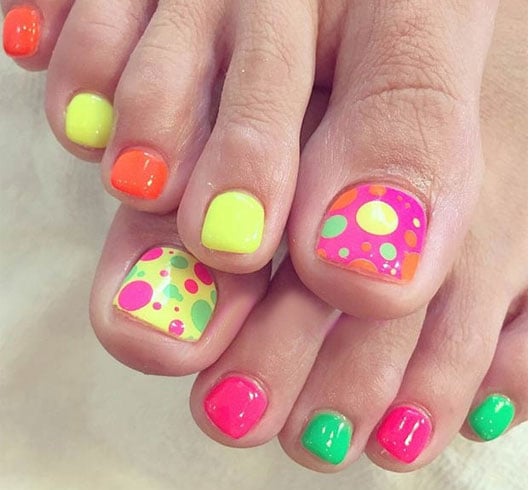 18. Scenic
Ever heard of toe nail art stickers? Yes! They exist and are pretty awesome too. If you are planning a vacation to the palms or any scenic place, apply toe nail art sticker like beach palms on the bigger toe and go neutral with the rest. Cool holiday toe designs, aren't they?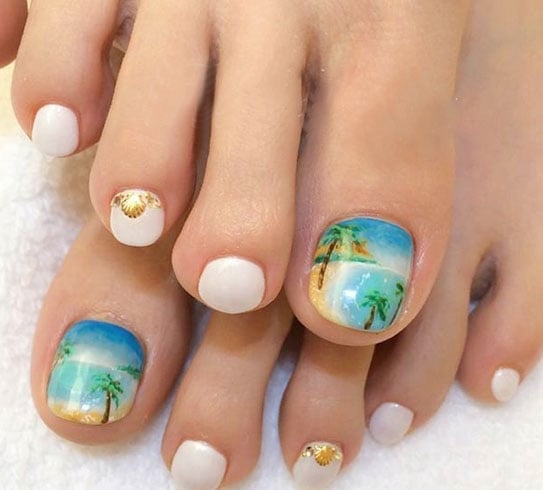 19. Popping Hearts
This one cute toe nail art. Hearts are always the most asked for toe nail designs. Be it valentine's day or not, try out this cool heart popping style. Play with the colors as it pleases you and enjoy your stride. Here are a few suggestions that will tickle your mind: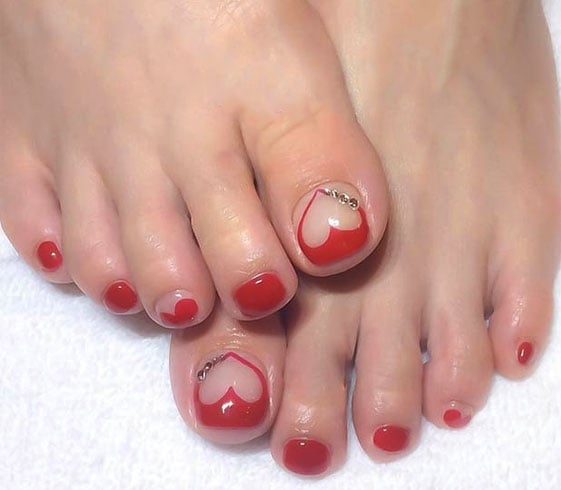 20. Mermaid
Love the fairy tales? We do and here is one of the toe polish designs that depicts cute mermaid story. Give your toes a base coat of pastels shades and then add the gems, jewels and shells that define a mermaid theme.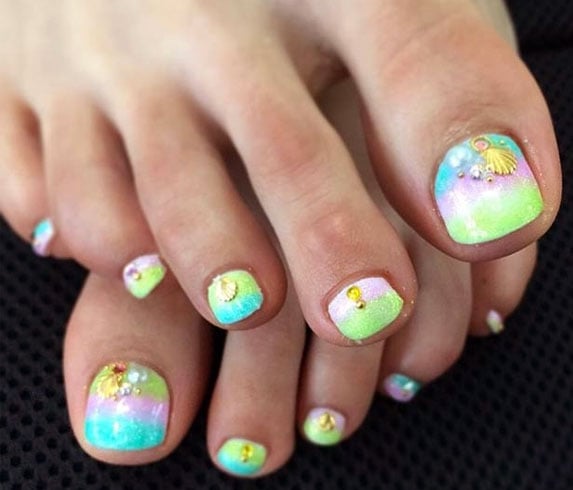 21. Cherry Berry
One of the fascinating toe nail designs include the popping of cherries. The red, green and white colors that are used make it very attractive. Go seasonal with this style and let people compliment your step.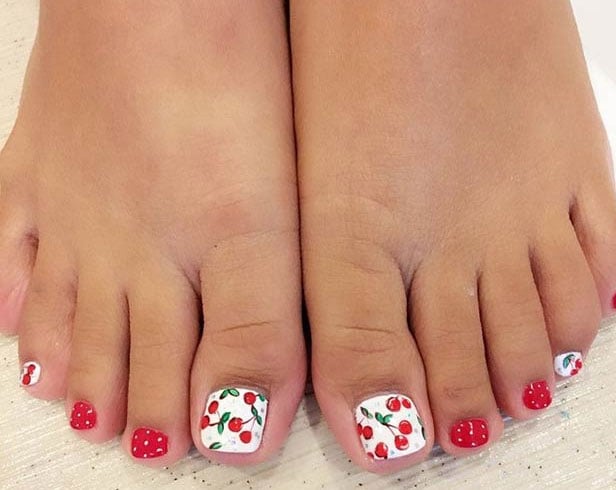 22. Splash of Beach
The sight of sea and sand excites most of us. Why not replicate the theme onto the toe nails? Trust us, it will be the most creative toe nail art idea that you ever came across. Keeping same pattern on all the toe nails will make it boring. Hence use gems, beads, glitter etc on other nails and make sure it goes great with the concept.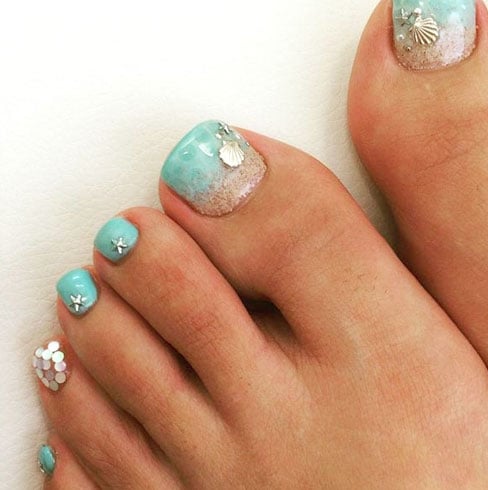 23. Feather and French Tip Toe Nail Designs
Here is one more pattern that you can add to your black toe nail designs collection. On the big toe nail, go with the black and white feather pattern as you can spread the design appropriately. The rest of the nails go ahead of the french tip toe nail design. A peacock feather style will also look beautiful.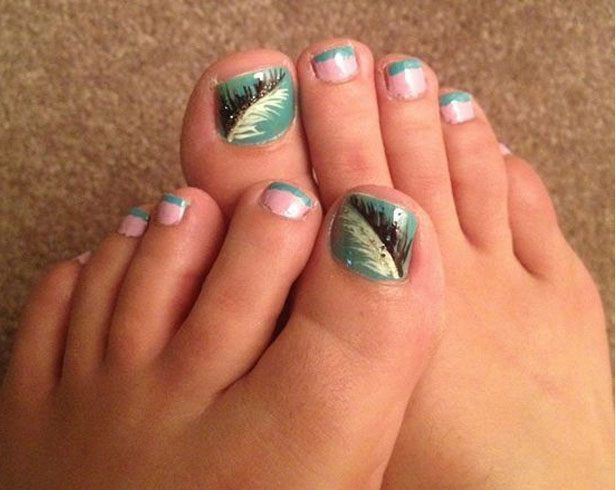 24. Multi-colored/Rainbow Dots
Bring the rainbow to your feet with this easy to do summer toe nail design. Apply the bigger dots on the tip and gradually move down with the smaller dots in varying colors. This style will suit every summer outfit that you pick. But keep in mind to apply a white base coat for the colors to show.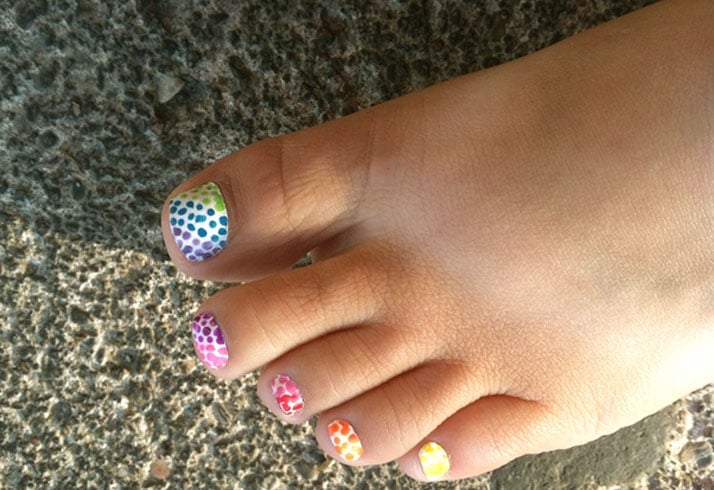 25. Ombre Effect
Getting a pedicure done? Wondering what to try? Here is a suggestion for toe nail designs for beginners. If you are unsure about handling a jeweled toe nail art, go with the ombre effect. Give your parlor lady this toe design for pedicure and I'm sure you will love it.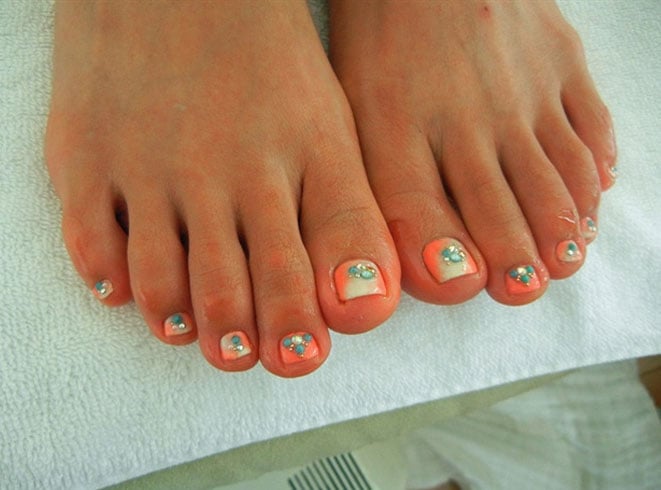 26. Sunset And Silhouettes
Sunset and palm trees usually make for the most beautiful scenic art, don't they? With the setting of the sun goes all of our tiredness of the day. Get the sun to set right on your feet with lovely palm trees in silhouette.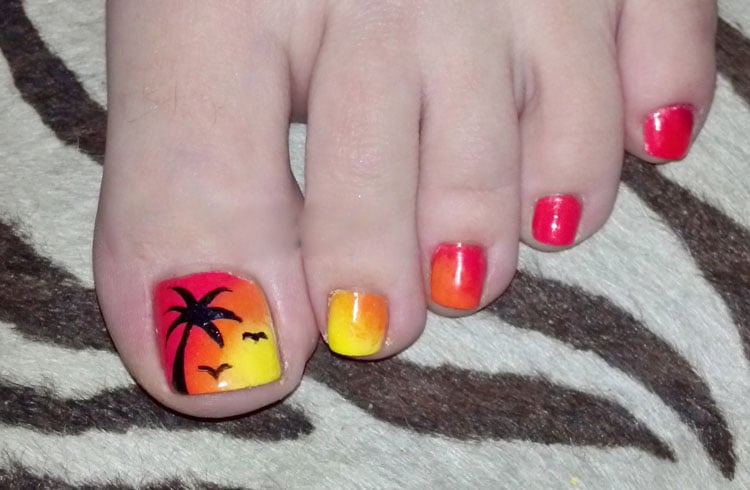 27. Lady Bug
If you are polka dots fan, you should definitely try out this lady bug toe nail art. Since lady bug is usually in red and black, you might feel color restrained with this concept. But this can be considered as one of the cute halloween toe nail designs.
28. Plaid
Innovative and very interesting is the plaid toe nail art. With red, white, blue and gold maintaining a balance, this style will go great with checkered outfits. Remember to use white paint as your base.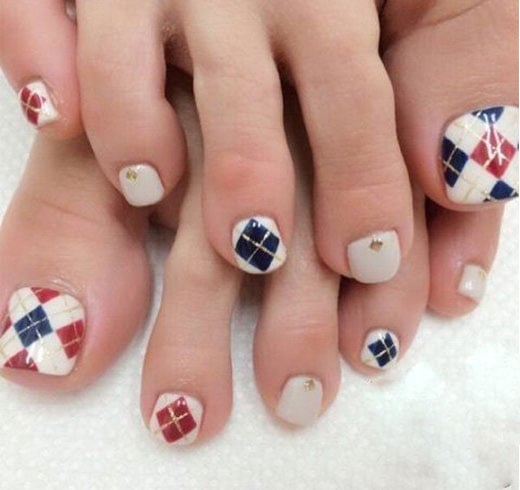 29. Zebra
One of the animal designs that is an easy to do toe nail art is the zebra pattern. Keep it the traditional black and white colors or experiment with the shades of your choice. Take a sneak peek at the range of zebra designs that you can try here: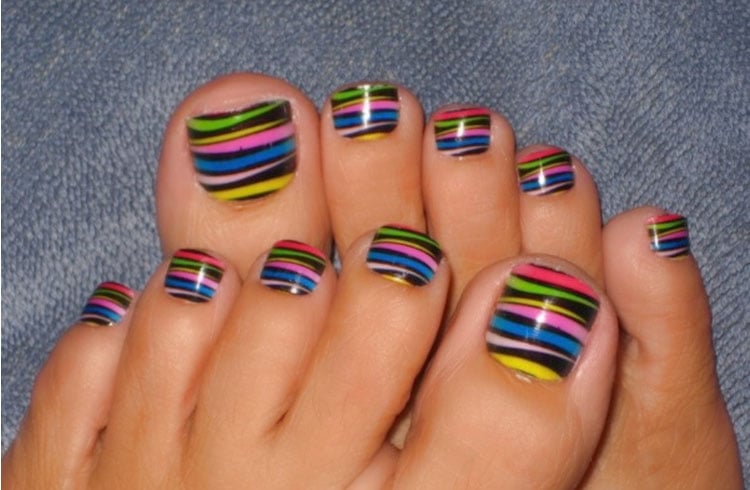 30. Fruity Fruit
Play along with the season and it's fruit while designing your toe nails. Be it watermelon, pineapple, strawberry or even kiwi, go with the season and get these perfect gel toe nail designs onto your freshly pedicured feet.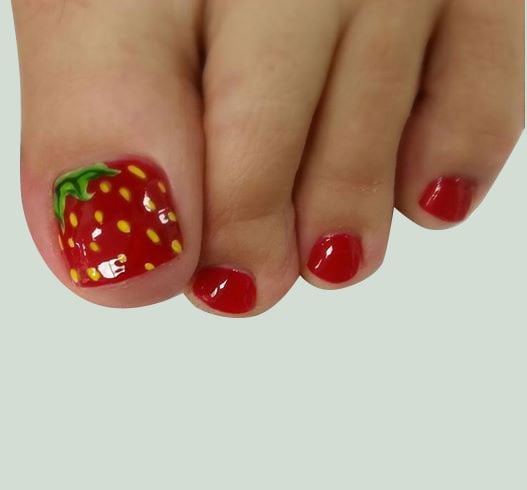 31. Marble
The swirling style of the marble effect over a base white coat give an immense volume effect to the nail. It's easy to pain the big toe nails with the swirls. Hence to simplify the art, use solid colors on the remaining toe nails.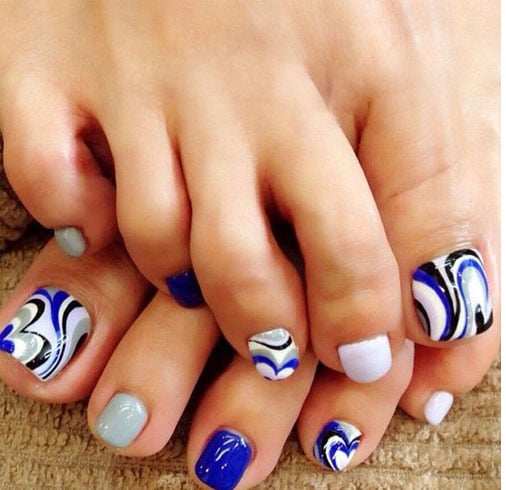 32. Anchor
Anchor that suggests security and stability can be worn on your toe nails showcasing your strengths. Since its an intricate design pattern, it can only be painted on the bigger toe. Hence keep the rest of the toe nails either in solid shades or go with stripes.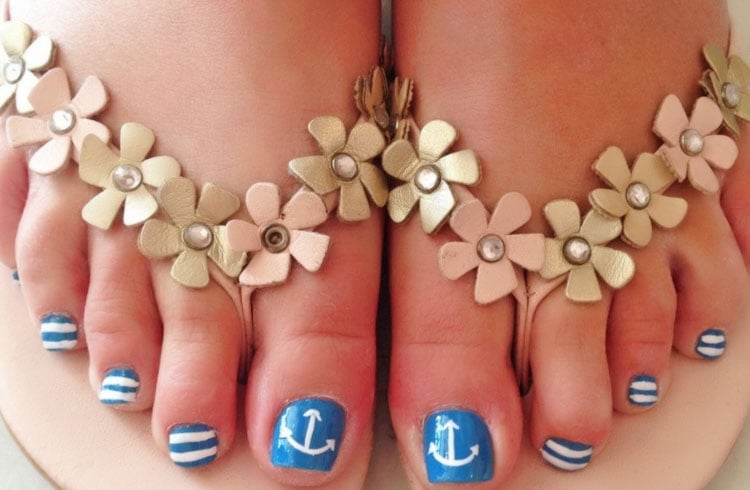 33. Heart & Bow
Make the most of this absolutely girly toe nail design. In combination of pink, red and black nail polishes, this foot nail art is very attractive.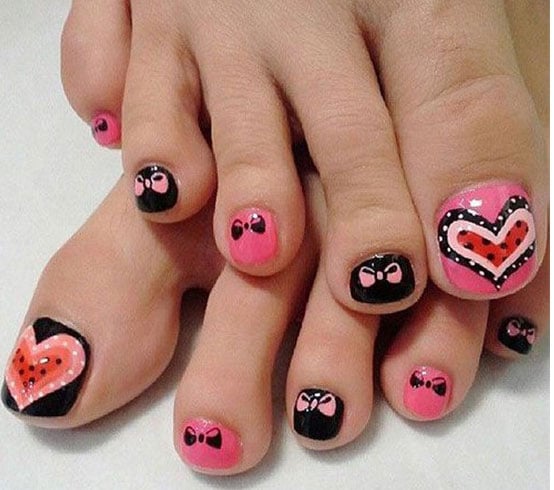 34. Metallic
Along with metallic sneakers, apparel, the toe nail art are also very much in trend. With the mirror effect, these toe nail designs give a steel look on the nails.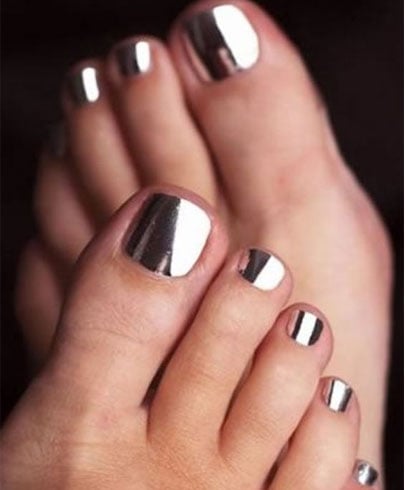 35. Stars
Lastly, you don't need your prince charming to bring down the stars onto your feet. Check out this absolutely cool stars nail art that will look lovely on our feet.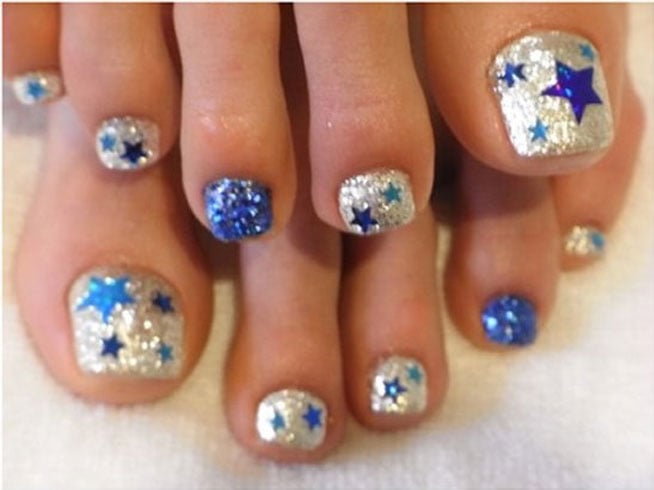 Choosing a single toenail designs out of so many shown might be a bit difficult for you. Just start figuring out which of them you could attempt all by yourself. If you don't have the patience or time, take the picture of the toenail art designs shown above in your next salon visit.
At the end of the day, you need to prepare yourself for the compliments that will come your way. Happy painting your toe nails!
Images Source:pinterest.com