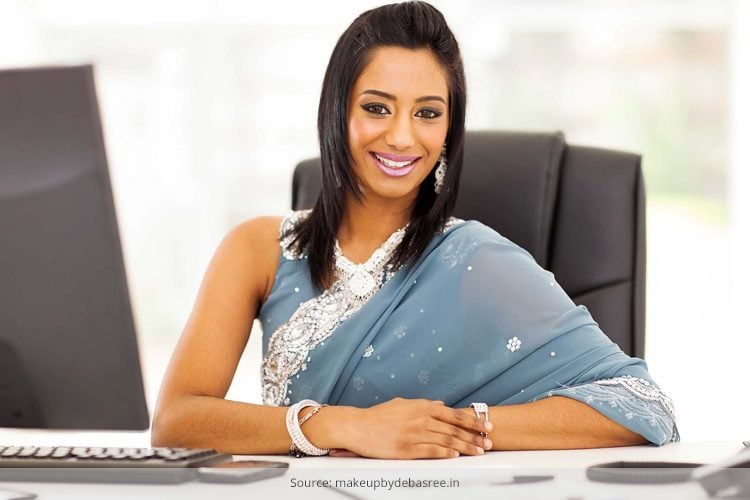 Quite often than not, our HR at work would have sent us women a list of what to wear and what makeup to flaunt, while slogging it out from Monday through Fridays at work. But then again, a little shimmer and shine or a touch of pink blush is allowed as Office Makeup and helps woo the client too. Yes, without crossing boundaries and keeping in tow with what the legal clause for work says, here are a few Business Makeup tips for the corporate look. Desi and shining at work, why not!
[Also Read: Runway Makeup Looks]
A Few Looks To Guarantee A Good Appraisal
Here are ten gorgeous corporate looks for the Indian woman to try.
1. Matte Pink Lips And One Stroke Of Kohl
With a crisp white shirt, a summer coat and the hair tied into a bun, the matte pink lips with one stroke of dark kohl, makes a perfect Monday makeup routine. Keep the embellishments and accessories low or nil!
2. Specs And The High-Bun
A high tight bun, dark rimmed specs and gorgeous red lips with a hint of blush on the cheekbones! Says who the lass at work with glasses can't look haute and hot?
3. A Gorgeous Blush Of Pink
Play with the blush a little, on the tones of peach and pink this time. Accentuate the cheekbones and define the face with hair – short cropped and lose. Tuesday client meets would be your shots to call!
4. A Statement Neckpiece And A Hint Of Blush
While you cannot afford to wear everything bright for a day at work, a hint of blush closest to your skin tone illuminates the face, and defines the cheekbones. A statement necklace quite minimal with a summer coat and a crisp shirt, loose falling hair and studs for the ears, does the trick!
[Also Read: Perfumes For Office]
5. Coral Lips For Wednesday
Make Wednesday a joyful day with coral lips and coral blush on the cheeks to flaunt. The best part is, the look is au naturale and can be worn with sarees or salwars or even western suits at work!
6. Autumns On Wednesday
Another look for Wednesday where you can flash that bedazzling smile would be with brown eyeliner rims and a pearly pink touch to the lips.
[sc:mediad]
7. Kylie Shows Us A Look For Thursday
Kylie Jenner, a celebrated makeup artist from the west shows us how to accentuate the smokey look sans going overboard with it for Thursdays. Perfect for the client meets when your eyes have to woo a deal!
8. Anamika Mishra Gives Us A Thursday Touch
Radiance comes best with pink nude lips and a dazzling touch of translucent powdered cheekbones. The look is pretty clean and soft or should we say very feminine, and the eyes are touched minimal with one stroke of kohl.
9. Friday Fun
Get a little whacky for Friday, because you deserve the smart casual look on your face too. Dark rimmed eyes and deep reds for the lips, with long flowing hair or an updo hairstyle of your choice,
10. Friday Shimmer
A little shimmer on the crease of the eyes and in silver metallic tones wouldn't kill anyone at work. No wonder the TGIF tag holds so true, because you can dress smart and with a little fun too!
[Also Read: Lipsticks for Office Wear]
Business Makeup Tips
Before we give you ideas on how to doll up for the ultimate day time look, here are a few corporate makeup tips to abide by. In doing so, your HR wouldn't mind your look and your boss would be impressed too!
Your eyebrows should be groomed and neat at all times
When wearing an eyeliner, neutral colours are the best to wear
Makeup lines are a NO-NO; blending is the key here
Carry blotting sheets, should you have oily skin
Carry a mirror, because a touch up during the day is a must
Buy two shades of the same lip shade you love. One for work and one to carry to work
Never wear glitter on the eyelids, you are here to work and glitter is for parties alone
Never use more than two coats of eyeliner or mascara
Always wear neutral, pinks or light reds to work for your lips
Never wear false eyelashes – not unless it is a theme day!
Have fun ladies with the ten office makeup for Indian skin looks we've just shown!
Hope this article on office makeup is helpful to you all.