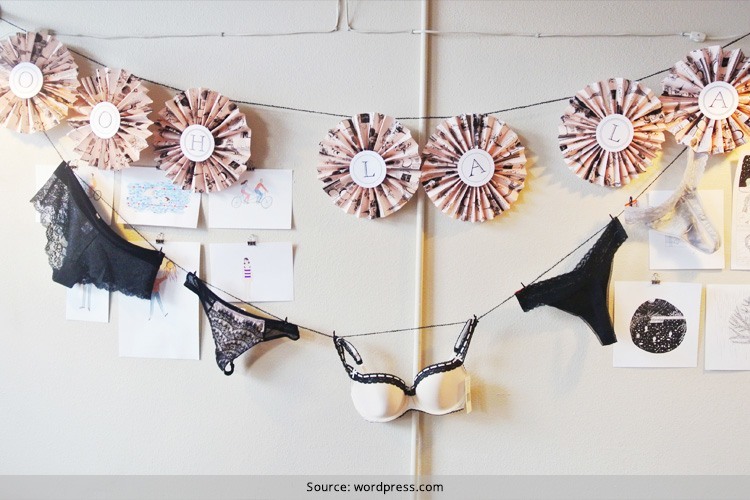 Been assigned with the responsibility of hosting a bachelorette party for your chuddy-buddy? You want to make it super rocking and memorable, why not opt for a lingerie shower party? Well, firstly you need to comprehend what is a lingerie shower. Frankly it is a celebration where the wife-to-be is pampered with lingerie as presents. It is the more glamourous version of a bridal shower! Now since you have been given the prestige to go through with the arrangements, you can make it as elegant or sensual as you please! Just acknowledge that it is for your best friend, so it should be devised for her enjoyment. Make sure the party is as kick ass as she is being for agreeing to the theme!
[Also Read: Best Bridal Lingerie Shopping]
So How To Go About It?
1. Send out the Invitations – This involves informing all her friends and close ones that there's going to be a party and to get gifts for the bride, via an e-vite or written invite. You'll need to ask about the measurements of your best friend's undies and bra beforehand so that the guests get her something that fits. Invitations should be funky so that the guests feel that this chick is totally ready for a bashing bachelorette. You could get real creative and make a corset shaped card with laces that have to be untied to see its' contents! Make it Bizarre!
2. Buy a Gift – Now you require the perfect gift for your gal-pal. Your's should be something special and different from others, as she is your BFF after all. Get her a sleep suit, a cheeky panty or set of some sexy accessories like garter belts, theme toys or sheer thigh-high stockings. You can even add a touch of personalization to these gifts by embroidering or adding a sexy tag with her would-be husband's name. Whatever you choose, just ensure you know that your best friend will want to dress in it afterwards.
3. Events of Party – Gifts are done, invites sent, RSVPs received. What next? How about planning some thrilling, sultry or naughty games? To begin with ask your friend to unwrap the gifts and guess which one was given by whom. You could even ask the groom to send in a lingerie gift and see if she's able to guess if he has sent it or not! Or have a kinky truth & dare game session. You could also formulate an amusing quiz in advance based on her husband and her relationship and ask fun questions that make her blush!
4. Food Arrangements – Hire your favourite caterer and draft out a dessert menu. A few treats and drinks should coordinate flawlessly with the party. Mini cookies, cupcakes, fruit trays, strawberries covered with chocolates, chocolate fountains etc. will do perfectly. You can even be creative and get the refreshments in pattern of bras and panties – like lingerie shaped cookies. Even the cake could be similar to the theme (corset shaped maybe?). Funk it up!
5. Decorate – Get a seat of honor or hot seat for the bride to make it special for her. Select a colour combination and coordinate the whole area accordingly. The use of silk, velvet and laces should work wonderfully with the theme. You can set it as posh or alluring, just let your imagination wild! You could even put up nice photos of the couple or even memories the bride shares with her close girl-friends. It should have a nice balance of liveliness and nostalgia!
[sc:mediad]
6. Return Gift – Why not let guests take some party-fun and flavor back home. Plan some favors to be gifted to guests. Set it on a table next to the door along the guest book. You could plan something naughty or cute. May be mason jar desserts or something more feminine like nail paints and chocolates in tiny buckets or cute holders.
Now you're all set to party!!! Present the beautiful bride-to-be with a sash adorned a unique title, such as 'Future Mrs…' or 'Bachelorette Queen' and a tiara to make her feel extra beautiful. Get a playlist that has all the favourite songs of your girl and let everyone party! Just keep in mind to make a list of who gave what to your best friend, so that you can write down the thank-you notes later on. Apart from that, you could also host a brilliant bachelorette to make your friend's day.