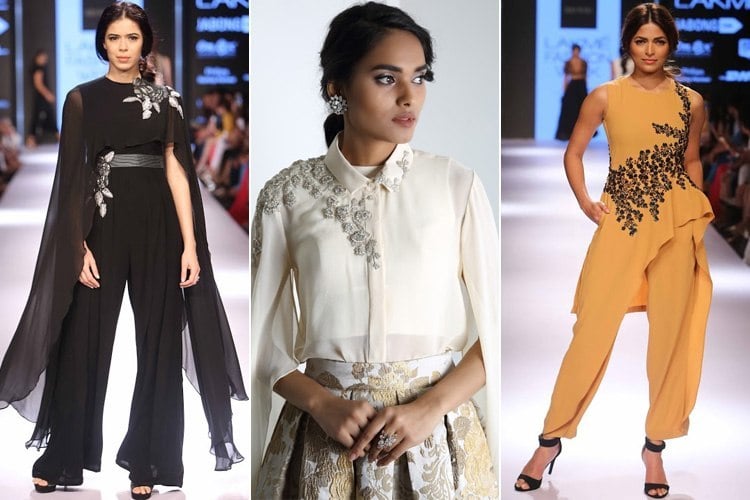 Ridhi Mehra, the Delhi based young and potential designer is well heard about. Being a vintage style lover, we find most of her work blending European clouts with Indian flavor.
She has earned herself a special place in the hearts of many B-town beauties like Sonam Kapoor, Sonakshi Sinha, Huma Qureshi etc.
[Also Read: A Walk Along Fashion Trail With Wendell Rodricks]
Team FashionLady had the privilege to know her and her remarkable work over a lovely and fun-filled conversation. Read along to know more about her work, her passion, her signature cuts and drapes, etc.
1. From studying business to a career in fashion. How did this switch happen?
Ridhi Mehra: My mother and aunt were fashion designers and were running a very successful label called Rakhi & Vandana so I grew up in the company of two very fashionable ladies and therefore the switch wasn't too surprising but was in fact inevitable. My business education has helped me a great deal in successfully managing the label's finances.
2. Your design aesthetics are quite unique – appropriate embellishments, drapes and contemporary chic. How do you manage to strike just the right balance and present a gorgeous piece of couture?
Ridhi Mehra: I love opulent couture but I feel it need not be maximal or over the top. It shouldn't bog the wearer down but should make them feel comfortable, confident and stunning! Customer feedback is very important and I always keep that in mind while designing clothes.
3. Define the label Ridhi Mehra in 3 words.
Ridhi Mehra: Chic, Understated, Demi-couture
4. One ensemble from your collection to dress up for each of these occasions – BFF's Wedding, Cocktail Evening, Brunch and Reception Party?
Ridhi Mehra: For BFF's wedding, reception, brunch –
For a cocktail evening –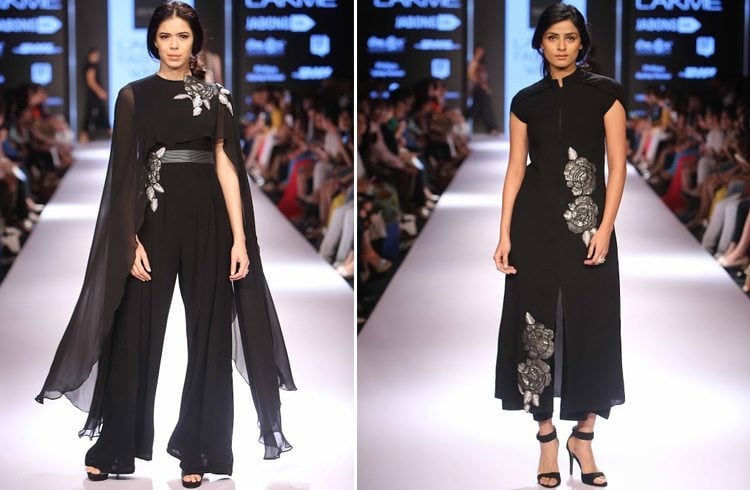 5. One pick from your latest collection for an off-beat Bride, who is looking for something other than a regular lehenga for her D-Day.
Ridhi Mehra: For an off-beat bride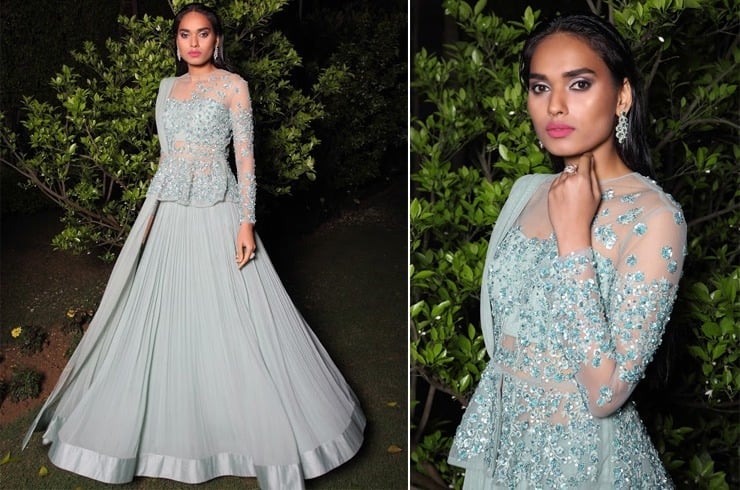 6. An outfit suggestion from your latest collection, for the pretty bridesmaid who wants her style game to be on-point this Shaadi Season.
Ridhi Mehra: Floral embroidered crop top paired with a lehenga skirt and the summer peonies anarkali in hues of mint green and rose pink.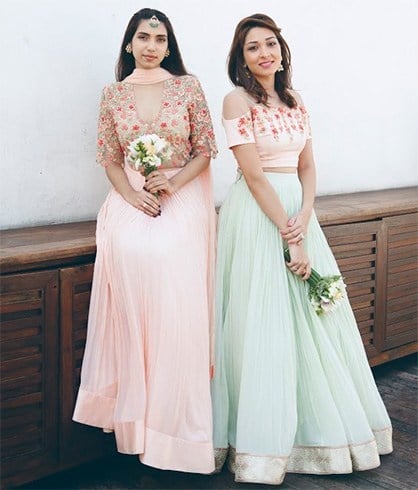 7. Your preferred color palette this season? Do you think Red's and Pink's bring out the best in an Indian bride?
Ridhi Mehra: A few of my favorite colours this season are rose pink, mint green, forest green and sea blue. Honestly, it's not just the outfit or the outfit colors that matter the most. Everything from the outfit silhouette, color, hair & makeup and jewellery are equally important and they all should go together. And of course the bride must wear her look with élan!
8. Capes in Indian Couture is something Ridhi Mehra introduced us to. What inspired you to reinvent an old classic? Also will you classify the Cape Trend as a Fad or something that's here to stay.
Ridhi Mehra: Reinventing old classics and giving them a contemporary modern update is a forte of the label. Cape outfits flatter various body shapes and hence are so popular. It's definitely not a fad and is a trend that regularly needs to be given a stylish update with different drapes and embroideries.
9. We are all keen to know, what Ridhi Mehra was thinking when she zeroed in on her exquisite Sabyasachi wedding lehenga?
Ridhi Mehra: Sabyasachi is a dream designer for me. I pretty much knew I was going to be a Sabya bride, so didn't really have to think twice before closing in on Sabya for the wedding. But choosing one favorite out of the various collections was a task. All the options seemed better than the others.
[sc:mediad]
10. Is your wedding outfit a keepsake or you plan to upcycle the piece?
Ridhi Mehra: I definitely wouldn't up-cycle my wedding lehenga but could wear it with a lighter top or a bottom for different occasions.
11. We all know that the wedding attire is one of the precious outfit's in a lady's wardrobe. Please share with our readers, some suggestions and options for them to up-cycle their treasured Lehengas/Sarees.
Ridhi Mehra: Lehengas and sarees can be easily up-cycled into short & long kurtas. Sarees can also be up-cycled into heavy dupattas. Embroidery patches can be used for making statement clutches and minaudieres.
12. We are in love with your shoes. What inspired you to start your own line of embellished brogues? Any plans to add more accessories to your collection?
Ridhi Mehra: I believe it's very important for a brand to keep innovating with new ideas. With shoes being one of woman's favorite pieces to invest in, I thought of creating my own version of the shoes. Diversifying into more accessories is a part of the plan and will reveal them shortly.
13. We can't wait to know about your mood/theme board for your Next Collection. Could you please share a snippet with us?
Ridhi Mehra: The next collection is called ELIXIR and it's the AW16 collection. Here's the sneak peak –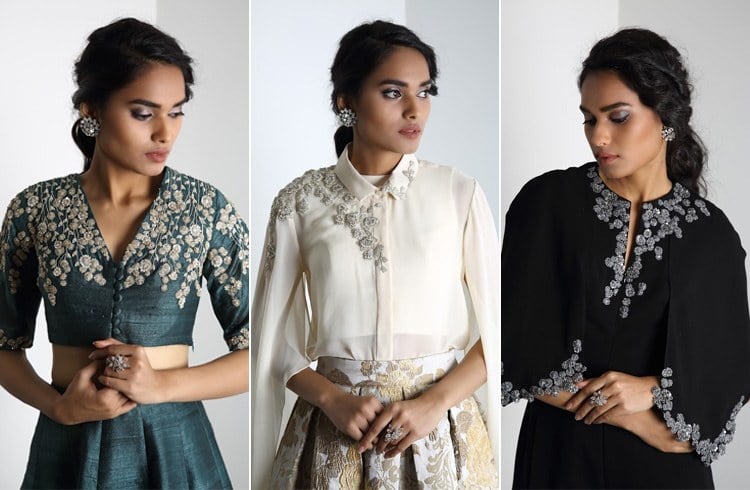 FashionLady team would like to thank Ridhi for her precious time and would definitely mark this conversation as the most fascinating and enjoyable rendezvous.