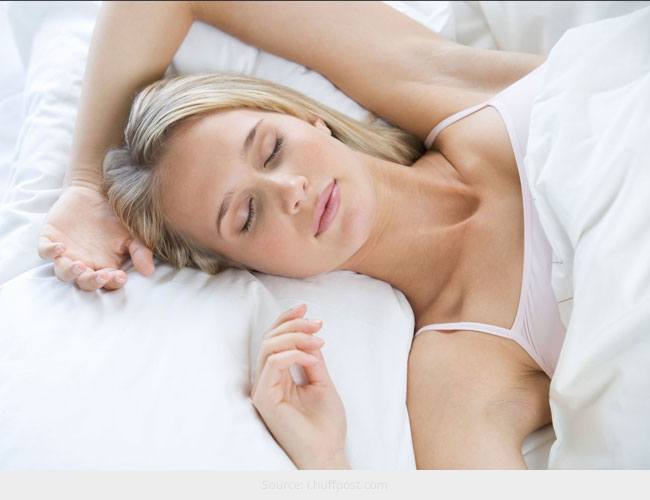 Wearing the bra at night has all sort of negative and positive connotations and rumors attached to it. We asked this question to 10 different people, and everybody had their own tailor-made answers to it – some said they made their breasts perkier, while others said it prevented them for sagging; while some said that they unhook their bras because of fear of adverse health effects on them, others said that bra is like a part of their body and they cannot just not be without it even at night. With so many arguments, today we will unhook the mystery for all you lovelies there and dig the real truth behind the benefits and negatives of wearing a bra while sleeping.
[Also Read: Different Types of Bra]
The Bra: Friend or a Foe?
It has been observed that many women, especially women with larger cup size, tend to feel very uncomfortable while sleeping with a bra. Not only do they suffer from unusual soreness, they might suffer from breast tenderness when they sleep without a bra, as their breasts need support all the time. On the other hand, other women might feel being tortured when sleeping in a bra.
Do Women Who Wear Bra At Night Really Get Breast Cancer?
This is a completely baseless myth and should not be entertained under any cost.
It, in no way weakens tissue that leads to breast cancer, and apart from the fact that some women loathe the idea of wearing bra at night completely, it has no other negative health effects. The cancer rumor was first originated in 1995 book "Dressed to Kill", which claimed that bra can cause breast cancer as they trap 'toxins' in the body. But there is no actual science to prove this baseless fact! In fact, a recent study published in the journal of Cancer Epidemiology, Biomarkers & Prevention found no connection between postmenopausal women wearing a bra at night and breast cancer.
If Sleeping in a Bra is Okay, What Causes Breast Sagging?
It is indeed time, pregnancy and breastfeeding and post-menopause stage that contribute heavily in breast sagging. It is often noticed that genetics and age too tend to define the extent of sagging. If your breast size goes up and above C, then it is recommended for you to choose a soft-cup style, that has no hardware and fasteners.
[sc:mediad]
When is it Not Okay To Wear a Bra At Night?
A few of the women out there tend to have tender breasts, hence they tend to suffer from rashes below the breast, as the skin to skin friction increases. It is then that women should avoid wearing a bra during nighttime, and during daytime, she should wear a natural fiber bra, made of pure cotton and soft cup that keeps the moisture away from the skin. If you tend to suffer from excessive pigmentation, skin irritation and acne on and around your breast area, then make sure you are not wearing a tight elastic bra and avoid wearing them at night altogether. Wearing tight bra at night can also lead to oedema, a lymphatic blockage that leads to accumulation of fluids in the breasts. Few lingerie brands in India and abroad suggest not to wear bras while others think bra must be worn at nights.
Choosing The Right Piece of Bra
In the daytime, you might be fond of wearing lacy, under-wire, padded beauties, but for the night time, be sure to only wear lightweight, non-under-wire bra. Better still, if you can go for camisole-style pajama tops that comes armed with inbuilt bra for that long and deep sleep session. Make sure that the bra you choose to sleep in is not too tight and have no edgy points or parts that dig into your skin, as they are one of the major causes of breast infection.
Having listed both the positives and negatives of wearing a bra at night, in the end it is completely a matter of personal choice. Remember, a bra is there to protect you, care for you, be your support and if it is not doing justice to its true functional characteristics, it is time for you to replace it right away!