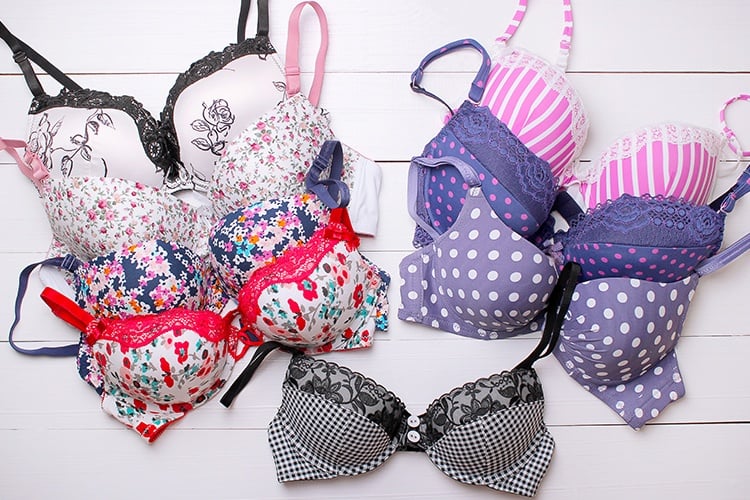 Each woman is gifted with assets which need support. Question is how to look after them? Wearing a brassiere or bra is not sufficient. It's important to preserve their size and shape too. Bras are your best friend for life since the time you became adolescent so here we go tracing the rules and regulations in keeping them secure and in place.
[Also Read: Top 20 Types of Bra Revealed]
Bra Fitting
First let us know the various components of a bra. A bra can be divided into chest size (also called the band size) and cup size. The chest size runs across a girl's chest and around her back, and the cups hold the breasts. Bras are available in different sizes, in the form of different combinations of the chest size – numbers are 32, 34, 36, etc. and cup sizes are shown as letters – AA, A, B, C.
The chest and cup size need to be right and accurate to get you the right fit. How can one make out the wrong size? Either the bra's band would feel tight and uncomfortable around the ribcage or it will be loose enough to push up the bust line. In lingerie ads, we often see bras that have small cup size forcing the breasts to bulge out. Similarly, big-sized cups won't be a good sight either as they leave an inappropriate impression.
Bra Measurement
As mentioned above, the chest size is the number part of your bra whereas the cup size is the letter part. For instance, if you are wearing 36B, then 36 is the band and B is the cup.
Though bra measurement is a private matter, let someone else (it can be over-the- counter sales woman too) do it for you for accuracy sake. The measurement of a bra doesn't need you to go nude. It can be done while you are wearing your bra or any other garment.
[sc:mediad]
Remember not to wear thick clothes (such as sweater or sweatshirt) while getting the measurement done. Also avoid wearing a padded bra as that will not give you the perfect measurement size.
Bra Clasps
Wearing a bra might be easy but it has to fit you well. Also securing their clasps is a big job. Since they are supposed to be hugging your torso, try out bras before buying them off the counter. Though nursing bras are quite the same as regular bras, but they have the capacity to fit in larger bust line. So make it a point to try out bras to your satisfaction. After all, they are going to last you out the day and night. Also remember that your breasts should not spill out either in the front or on the sides of the bra that you are wearing. This indicates that the clasps and straps have not been adjusted well.
[Also Read: How to Pick a Good Nursing Bra ]
Bra Colour
Imagine white bra shining underneath a black dress. Ouch! What a sight it would be. How many of us would want our intimate piece of clothing, the bra show up under our tee or saree? This is why colour plays a major role in choosing a bra. So by all means wear a light coloured bra if you are light skinned. This will make sure it doesn't look visible to the eye. The other option is to wear a bra of the same colour as that of your dress if your dress is see-through. The darker skinned should go for a dark coloured bra.
Bra Washing
You would have definitely read about tips to take care of your bra, but the most important of them all is washing. Instead of using washing machine, wash your bras by hand. If you decide to put them in the machine, then clasp them first, fold them in half and ideally put them in a transparent laundry bag.
Bra Storage
Just like you are particular about putting your expensive garments in the wardrobe, do the same about bras too. Fasten the hooks on your bra before you put them away. This will keep them from getting caught and crumbled or being bent and broken.
Bra Replacement
If you find loss of elasticity in your bra, it's time to replace it. After all, you won't want to move around in sagging breasts, would you?
Choosing the best bra is not an easy task but why deprive the Eve in you to select the right bra that will benefit you on a longer run. Happy bra selection!