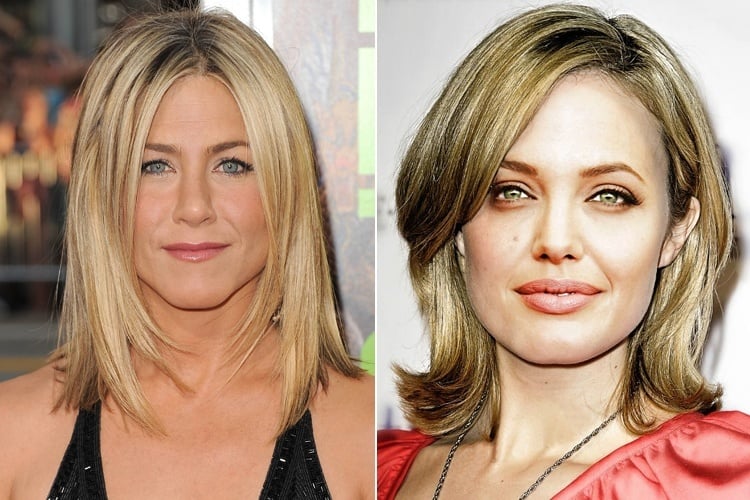 Hit your 30s and have you changed your outlook towards life? Great going! With more responsibilities comes more evolution, and we aren't talking about individualism alone over here. We rather are talking about how our personalities change over time, and especially when we cross 30s. It is as though a switch has been tapped into, which makes us much wiser and matured in our ways, our lifestyle dealings and in everything we do and flaunt. So, goodbye pigtails and those curly ringlets – we PYTs in our 30s know how to wear our hair well and look super fabulous too!
HERE ARE A FEW IDEAS ON HOW TO FLAUNT THE BEST HAIRSTYLES FOR WOMEN OVER 30
1. Wear Your Hair Like Dimitrios Kambouris
Dimitrios Kambouris, a supermodel in her late 30s shows us how to wear our long straight hair. With fringes to the forehead and the sides left loose and flowing straight, the cheekbones are highlighted and the eyes made the focal point, this is one of the chic hairstyles for women over 30. This is a hairstyle perfect for women who wouldn't want to go snip-snip with their lovely manes; keep it long and strong, and snip the fringes short!
[Also Read: Hairstyles For Older Women]
2. Adorning The 1930s Flapper Look
The flapper girl look wasn't for the faux bob girls only, but even for women with shoulder length hair. And should you have untamed frizzy hair that just wouldn't sit in place; opting for the flapper blunt fringe cut as haircuts for women over 30 would be the best thing to do. Keep the fringe very short, while allowing most of the wavy hair from the crown to fall around!
[Also Read: Pretty Haircuts For Long Hair]
3. Angelina Shows Us How To Play With Shags
Shags are cool and so apt for the woman in her 30s and beyond. Shags help hide wrinkles and fine lines, dark spots and blemishes or any skin issues too. The hairstyle is known to highlight cheekbones and the chin zone or the jawline as well.
[Also Read: Mod Hairstyles]
4. Bangs And The Blunts
Keep it blunt and let those bangs do the talking, should you have a diamond or an oval shaped face, with a touch of chubby cheeks. With bangs that are so blunt, the cheekbones would have a new definition to play with, should you not opt for long hairstyles.
[Also Read: Hairstyles for Round Fat Faces]
5. Razzle And Dazzle With Soft Curls Hairstyles
Should you have a round face or a heart shaped face, and if you want the facial bone structure to look well-defined and firm, opting for soft curls till the nape of your shoulder bones, would be the best thing to do. This hairstyle brings in volume to the hair, and it also helps define the jawline too
[sc:mediad]
6. Straight And Short
[Also Read: Black Hair Braid Hairstyles]
Finding it tough to manage your hair at work and meetings, and wouldn't want to grow it any longer? We have a chic solution for you; the short bob cut with side bangs on the fringe that sits neat and coy. Perfect for office-goers who really wouldn't have the time to grow their hair and maintain it too. This is one of the best short haircuts for women over 30 to think of!
7. The Pixie Look
Work or at play, the pixie look with chocolate touches for the Indian desi skin tone works like magic. You could crumple the hairdo or keep it poker straight, play with the eye colour and shadow or leave the face nude, the pixie look for women in their 30s would work just fine!
8. The Soft Blunt Bob
While Victoria Beckham is known for her myriad styles on the blunt bob edgy cuts, you could emulate the same with a softer short touch and with bouffant retro inspiration. Comb your hair side ways and then to the back, allowing fringes to fall forward, and leave it at that!
[Also Read: How To Get Chubby Cheeks]
9. The Chic Graduated Bob
The chic graduated bob cut looks fine for office and college-goers; easy to maintain and very simple to doll up in. this is a hairstyle that removes at least four to five years off from your face, and who wouldn't want to flaunt the same? Amazing medium hairstyles look so chic!
[Also Read: 2016 Hairstyles Trends]
10. Long Flowy Cascading Waves
We love what Aishwarya Rai has done for her here, and since she is way above her 30s, you could seek inspiration from the former Miss World and fashionista too. Play with layers, hide those freckles and lines, and look ravishing just as you are!
11. Soft Pixie
While looking for hairstyles for women over 30, we have come across the most easy to-do hairstyle, the soft pixie hairstyle. Unlike the spiky pixie style, this will give a feminine edge to your look. It very sweetly embraces the growing age and maturity keeping the chic and trendy feel as well.
12. Half Pinned Up Hairstyle
While the straight hairs, fringes give you the desired look, we are more inclined on giving you a younger look. And the one hairstyle for middle aged women that never fails is the half-up pinned hairstyle. Just pull the top sections of the hair as per your desire and pin them up. Give yourself a puff and let few strands fall around the head casually.
13. Pony Hairstyle
A pony and that too a messy one will take off a few years and add some funk to your look, don't you agree? Spice it up by adding braids or giving the hair a bouncy feel.
14. Crop With Fringe
If you already have a cropped hairstyle, then make the front fringe a bit longer than the crop length and let the focus stay rooted to the eyes. This is one unique short hairstyle for women over 30. It highlights the features of the face and helps in covering the over-sized forehead.
15. Braids
Love braids? Can't let go off them? Me too! And never shun styles that you love. Braids those lovely tresses and look gorgeous.
16. Bob Hair With Stiff Curls
Halle Berry shows us that no matter what curls rock. The bouncy curls rolled all over will add volume and keep the look very attractive.
17. Long Layers
We never get bored or tired of the usual long straight layers, do we? The ydefine the contours of the face charmingly by adding volume, texture and swing to the hair. The long layers help us bind them into a pony as and when needed. Simple, right?
18. Puff Hairstyle
If your hair is thinning with the adding years, we have the perfect haircut for women over 30. Just give yourself a shoulder length haircut. Keep the layers straight and neatly aligned. Now take the section of hair in the front and give it a slight puff and pin it back.
19. Bun Style
As years keep adding to your age, always remember to avoid, sleek hairdos. A classy party or a dinner might tempt you to go with a bun style. In such scenarios, make sure you opt for the messy buns or braided buns or even better are the twisted bun styles.
20. Beachy Waves
Hitting a party on the weekend? Go the beach wave style with your hair. This hairstyle for 30 year old women is rocking, isn't it? It will shield the years perfectly. For this style, all you need to do is add a bit of salt spray and crumple your hair.
We hope these fine hairstyles for women in their 30s come in handy. Should you have any questions or comments, or would like to share your own thoughts, do write in!