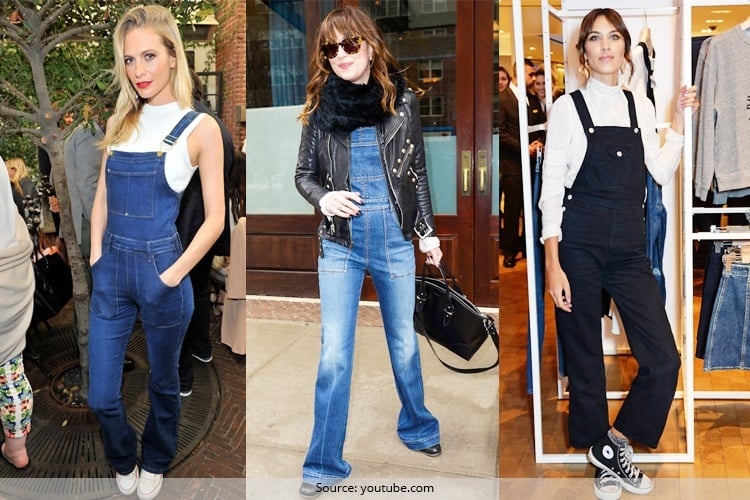 When we think of the 80s & 90s fashion, we visualize bell-bottom pants, tie up shirts, crop tops, overalls and so on. Well, this season its time to rock the 90's fashion again! Back then, crop tops was all over in fashion market and is still 'in'. And now, overalls are trending high on fashion charts.
Overalls are not just only about baggy pairs, but are available in number of styles and colours. You must have definitely spotted fashion bloggers and fashion icons, seriously rocking overalls in chic styles. All you need to know is how to put together your outfit and carry it with style and confidence. Also, whether you choose long overalls or go with the overall shorts, it is easy to style them and denim overalls for women goes well with almost everything. The chic-iest trend to wear them is of course with a crop top. And for footwear, you can choose from casual sneakers to sexy pumps.
If you're not sure how to pull it off, get inspired from street style ideas of fashionistas. Here, are 20 ideas on how to wear overalls.
Learn how to wear overalls fashionably
[Also Read: How To Wear Kimono]
1. Add an extra fun element, by pairing it up with light quirky accessories like neckpiece, rings, mobile covers etc.
2. For the ultra chic and contemporary look, go for slim-fit overalls and pair it up with classic striped shirt and bright pumps. Wow!
3. You can also work around a playful look by teaming it up with a button-down collared shirt and espadrilles.
4. Wear your overalls over a tube top or bandeau for a casual afternoon outing or for a vacation. Add a cape, kimono jacket or cardigan over it, to make a more trendy statement.
5. A perfect summer is incomplete without a floppy or a wide brim hat and a sunglass, How about pairing it up with your overalls?
6. Make your overalls look sexy by pairing it with sheer or cutout tops.
7. Say no to mundane colours and splash your look with perky ones. Go for overalls in bright vivid colours like red, yellow and so on instead of blue denims.
8. Carry an overall with its natural playful charm as winter appropriate; Inspired from high street fashion, wear them with a beanie, sneakers, and a chic jacket.
[sc:mediad]
9. Keep it simple and comfy, by pairing the loose overalls with a white jersey tee and sneakers for an effortless style.
10. Wear a statement chunky necklace with the overalls to instantly glam up your look.
11. Coordinate it with an elegant lace top, sky-high stilettoes or wedges and a classy structured bag. And you are good to flaunt a ladylike style statement. Continue reading for more overalls style.
12. Another and the most coolest way to style your overalls are with crop tops. It is also a great alternative to style a crop top if you are afraid to show too much of your belly skin.
[Also Read: How to Wear Crop Tops]
13. Opt for overall shorts for picnics and weekend getaways. You already know it as a summer wardrobe piece, but little did you know, it looks great in winters too. Just wear them with coloured tights and overcoats.
14. A work wear option for overalls is to style it up with a fitted structured blazer and pointy toe pumps.
15. It may sound crazy, but the fashionistas are embracing the look of letting one side hang down as if you don't care. The fun look is worth a try!
16. Pull off an overall with funky prints and patterns such as tropical print, chequered print and so on, because, this season it's all about prints!
17. When everything seems so ordinary, layer it like a pro! Wear a pop colour top underneath, and add on a blazer, cardigan or a scarf over the outfit. It will instantly give you a trendier feel.
18. Why go for denims, when you have so many fabric options? Ditch the denim for much trending leather overall or a coloured corduroy. You can also get your hands on softer fabrics for overalls that are totally worth it. But remember denim overalls for women are a must have in the wardrobe.
19. Style a simple cotton overall with a turtleneck top and a basic shoes for a sophisticated and minimalistic look.
So, don't be afraid to try the different ways to wear overalls this season. Pick up a style and simply don the look! Overalls fashion will never fade, so don't shy from them.