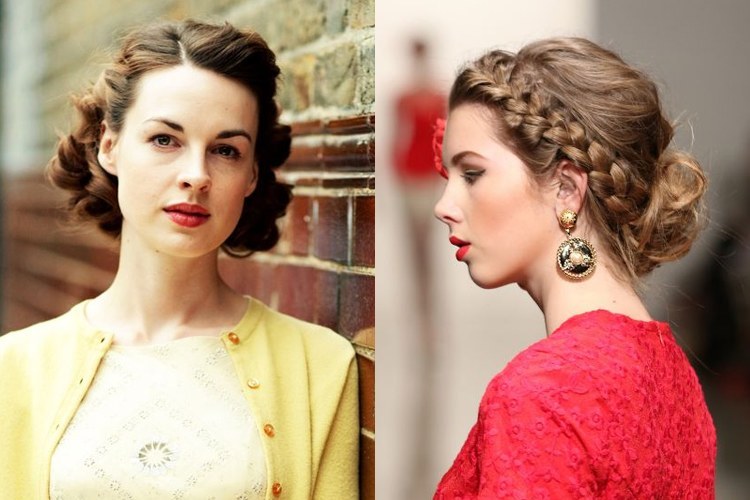 Don't we just love the monsoons, especially after a spate of heat waves that lash us to bits, showing no mercy? And now that the monsoons are here, the after effects of ignoring your crowning glory can be seen through and through.
Here are eight retro hairstyles to stir up on the rainy days, and we hope you love them too!
we really need hairstyles that would work their bit for our looks, comfort, fashion and style, keeping and gauging the events we have to wear them to.
[Also Read: Trendy Hairstyles]
Retro Hairstyle 1: Bouffant low-pressed bun
Why this look? The answer is simple, with a bouffant low-pressed bun, your hair stays in place with hairspray generously used and you don't have to worry about the little messy look on the sides and at the back. Wear it at work or for pleasure, and you'd still be the hottie who all want to get naughty with!
Retro Hairstyle Idea 2: Sleek up bun
Now why would we want to bring back the 60s sleek up bun or the sock bun? The answer again is a simple one. A sleek up bun would ensure that the natural oils on the scalp remain, and the hair stays safe and sound from the pesky elements around. And there wouldn't be knots and tangles to deal with later on. Perfect for work and play, go flaunt the look!
[sc:mediad]
Retro Hairstyle Idea 3: The Braided Bun Look
Braids and the bun, sure guns to use when it rains and the weather is all sticky, wet and humid. The hair stays safe in place, and you wouldn't have too any strands falling away. Try this hairstyle for day or night, at work or maybe to the movies, and you wouldn't have a thing to worry about!
[Also Read: Curly Hairstyles For Women]
Retro Hairstyle 4: Bow Ponytails
Cute, chic and very sexy to flaunt, the bow ponytail is a style that was once a favourite with cartoon celebs, Betty and Veronica from Archie's comics. Quite a handy hairdo to flaunt, you could wear it to work, to college or maybe just at home while conjuring up a magical monsoon treat!
Here is a quick retro hairstyle tutorial for you to learn this hairstyle.
The Rose Bud Hairstyle
Two French braids pulled to one side and then bundled into a side-knot. The hairstyle is a functional one to wear at work or just about for a chat with friends over a cup of bru latte. Try this hairdo, and you'd never go wrong protecting your hair from the wet and sticky climes out there!
[Also Read: Hairstyles For Bad Hair Days]
A Short Side Sweep
Would you like to chop the tresses and make it chic, nice and manageable for summers and monsoons? Go right ahead and chop them off, if that's what makes you happy. But then, a little mousse applied on the hair and combed from back strokes to sides, letting a little fall over your forehead would make anyone's day!
[Also Read:  Hairstyles For Straight Hair]
Ravenous Hairstyle
Let the hair get the look of a side cut blunt bob, play with a little earthy to fire tones with the shades and cut out the gloomy affair of monsoon greys too. The short blunt bob with a ravenous touch is what would best suit your needs this monsoon!
[Also Read: Deepika Padukone Hairstyles]
If you are attending a bollywood party and need a Bollywood retro look, then take inspiration from the many Bollywood celebrities such as Mumtaz, Rekha, Jaya Bachchan and Sharmila Tagore. These are the women to stay style tips and inspiration from.
The 7 looks of the retro hairstyles that we have shown you here are apt for any lifestyle you lead. Be it for a party or for a client meet, when worn right, you'd look the part and not an eyebrow would be raised. Cheers to the monsoon fashion and style, we want you to flaunt the new hairstyles with a smile!