How would you like to flaunt your heart, Valentine's or no Valentine's? Wear it on your sleeve or go for Heart Tattoos (which is a more exciting option).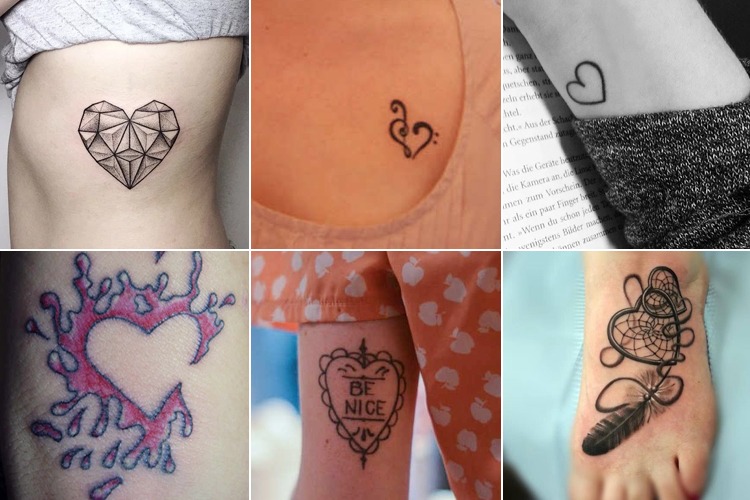 [ Also Read: Wrist Tattoos Designs For Girls ]
Best Heart Tattoos:
The heart is one symbol which is associated with Valentine's Day, cupid and anything and everything romantic. So here are heart tattoos in the form of heart-shaped tattoos, tribal heart tattoos, small heart tattoos, heart tattoos with names, colorful heart tattoos, unique heart tattoos that will inspire you to visit a tattoo parlor to get heart design tattoos. In fact, red is the most popular color when it comes to heart-shaped tattoos as red is the color of love and passion.
Celtic Knot Hearts:
Inspired by a Celtic knot, this heart tattoos for girls has the loops replaced by hearts.
Hearts And Cross:
I hope the religious inclined out there know for sure that it is the ancient Romans and Greeks who used tattoos in order to identify themselves with their religious sect. Since the cross is one of the most popular tattoos in the world this tradition of hearts and cross continues.
[Also Read: Finger Tattoos You Would Love To Flaunt ]
Pin Cushion:
Here is a heart or Heart Tattoos with dozens of pins. I know it is tough to figure out what the wearer is trying to convey through this heart shaped tattoos. Let's keep the relationship advice a secret.
Script Heart or Scripting Heart?
I guess this heart shaped tattoo is a bit same as the previous script tattoo. But let us give credit to the wearer of this tattoo who is proclaiming his/her love for his/her family.
Ornate Heart:
If your curiosity of Victorian architecture is getting the better of you, then watch out for this unique heart tattoos with embellishments.
Tribal Heart:
What do these three swirled tribal designs in tribal heart tattoos speak and convey? A heart, what else? Interestingly enough, the wearer claims it is a heart totem.
[ Also Read: Ear Tattoos That Will Mesmerize You! ]
Watercolors And Hearts:
Watch out for two hearts or Heart Tattoos with colors which vividly remind you of watercolours. With one tattoo filled with color, and the other having a colour fill outside the heart, it makes up for unique heart tattoos.
No Outline, Only Heart Shape:
This heart design tattoos is a gorgeous way to present the heart. And mind you, it has no outline making the heart shaped tattoos look more organic.
[sc:mediad]
Heel Wonder:
Tell the whole world how much you care for your heels (not soles) with these small heart tattoos.
Sisterly Love:
Explain your sisterly devotion by choosing heart shaped tattoos. The bonding it brings is fond and unconditional.
Finger Heart:
Extend your finger (didn't ask for your hand) as there are small heart tattoos to fill in the mystery.
Lil Love:
Talk of colorful heart tattoos and this heart tattoos for girls stands out despite being small heart tattoos.
[Also Read: Arm Tattoo]
Red And Blue Hearts:
Call them twin sisters, these tiny hearts make as good colorful heart tattoos.
Star Crossed:
Call it a thunderous statement but this unique heart tattoos not only fills your arm, it helps you show the world what you are made of.
Rosy Tale:
There is nothing more timeless than a red colored timeless rose. Makes colorful heart tattoos a colourful proposition.
When Hearts Match:
Wear your heart on your shoulder bone, not sleeve with this sweet and tiny small heart tattoos.
When Three Is Company:
Score a 3-some point by sporting this heart design tattoos on your wrist.
Neck Heart:
For once, let the back side of your neck do the talking with this heart tattoos for girls.
Tribal Heart:
The tribal designs offer some great variety for the person to pick from.
In fact, such is the popularity of heart shaped tattoos that quite a few international celebrities like Kate Moss, Lady Gaga, Julia Roberts, Jennifer Aniston, Courtney Love, Lindsay Lohan, Goldie Hawn have sported them.
To give them stylish looks and unique meanings, other design elements can be added to heart tattoos such as butterflies, angels, diamonds, bows and phoenix, hummingbirds, ribbons.
So which of the Heart Tattoos have you fallen in love with? Drop us a line or two in the comments below.