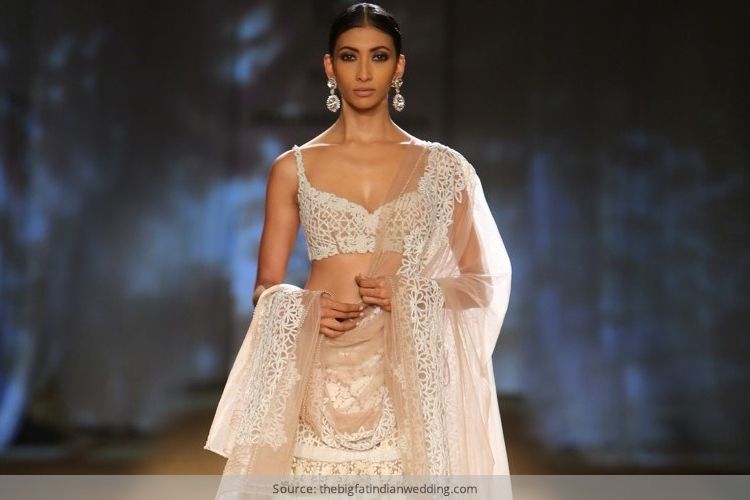 If you have watched the bridal shows so far this year and the Indian bridal looks 2016 shows us, you may have also seen the glow on each of the models face? This is what we are trying to attain this time, and much more than the clothes or the accessories flaunted, it is all about the looks. So here are five things that should be considered in the Indian bridal looks 2016 which can make the desi bride glow. Take a look!
[Also Read: Vogue Wedding Show 2016]
A snippet of the Indian bridal looks 2016 that brought the glow
Not all of us have the hourglass figure or that perfect skin to flaunt, which is why to look like a diva we need to have a little more than the usual effort thrown in. This in turn would bring in the radiance our skin needs, and the figure we want to flaunt. While the market is flooded with a range of pre-bridal treatments to help with, a healthy glow is a must to have, while the body is being taken care off. This is why we shall encourage you to use these five ways for the ultimate desi bridal look to have on D-Day.
Are You Drinking Enough Of Water?
You must drink enough of water each day, and never compromise on the intake. Keep a bottle of water for yourself, which would allow you to keep a check as to how much of water you are consuming. If that isn't possible, you can now download an app on your smartphone for the same, which keeps the check on water intake for you. Water helps in flushing out the toxins and waste, and also helps you slim up as well. This will help you glow in your chosen Indian bridal dressing style too!
Have Coconut Water
Your grandma wasn't wrong when she said to have plenty of coconut water. This is because it is scientifically proven that coconut water can bring about healthier and clearer skin. Consuming one each day early in the morning on an empty stomach can help flush toxins and brings into the system plenty of enzymes that clean the stomach and the intestine, plus keeps the stomach cool as well. When the internals are happy, the externals would show it off.
[sc:mediad]
Invest In Multi Vitamins
For this, you are advised to speak to your family doctor before you pop in those pills. Of what use would be the desi bride makeup or the desi wedding makeup, if you have scars and eruptions on your face. With multi vitamins to have, months before the wedding, your skin stays nourished and healthy. You also would have a boost with the immune system and the skin glows too.
Right Eating And Dieting
No pain no gain, and that holds true. But we aren't asking you to hit the gym everyday. Even if you don't want to hit the gym, that's okay. You can avoid junk food, oily snacks and sugary rubble as much as possible, even aerated drinks too. Work out freehand at home and flush away the fat and toxins from the body. Make a regime for half an hour a day and follow it religiously. When you eat right and diet well, NOT STARVE, you can make wonders happen and it would show.
[Also Read: Pre-Wedding Beauty Regime For Brides-To-Be]
Sleep Well
We cannot stress enough on this. Your body needs to rest and sleep is important. This is why they say "early to bed and early to rise". Sleep after two hours of dinner intake, and wake up early. Go for a jog, a swim or maybe a morning walk, to freshen up your senses. Breathe deep and allow some time for meditation before you sleep. This helps the body snooze better and repair the cells too. lack of sleep can lead to stress and skin issues, mind issues and more, which you certainly don't want.
So while you look for desi bride makeup ideas and tips, don't forget these five natural pre-bridal routines to follow!
[Also Read: home tips for bridal preparation before marriage]