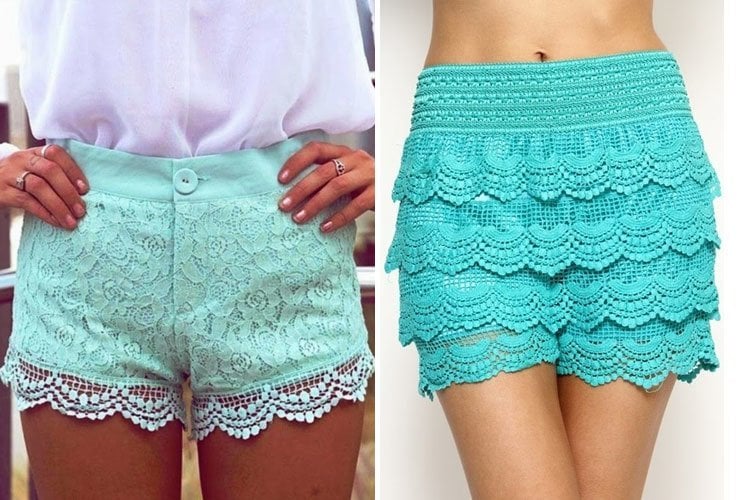 Right from clothing and shoes to household articles such as coffee mugs and curtains, everything seems to be in the refreshing mint colour these days. This is not surprising considering the fact that mint has been one of the most popular colour choices for the year 2015. Runways all over the world have seen exquisite creations in mint colour. Even with our ethnic wear, where Indian designers usually opted for bold colours such as red and yellow, mint seems to be a new favourite. So, is mint the new colour for you to own? In what ways can you add mint to your wardrobe?
Footwear
If you do not own a pair of mint coloured footwear, you are really missing out! From stilettos to running shoes, mint works so well on footwear. It gives your shoes a nice splash of colour without being overly bold. Do yourself a favour and buy a pair of mint coloured footwear ASAP in any style that you prefer – sandals, heels, oxfords or sneakers.
[Also Read: Summer Footwear Styles To Follow]
Swimwear
No other colour can show off a nicely tanned body like mint can. The pale colour is sure to show off your tan in the best way possible. Mint is one of those awesome summer colours that is refreshing and reminds you of cool water and ice cold drinks.
Nail Colour
While there are different nail polish colours for different skin tone, this season try something new. Paint your nails mint! Few colours can manage to look pretty and unusual at the same time. Mint does just that. It is eye popping while still being extremely pretty and feminine. Just the right nail colour for both work and play.
Handbag
Ditch your boring brown or black handbag for a much more interesting mint coloured one. They might be the most expensive handbags in the world, but nothing beats this summer color handbag. Get yourself a mint color tote or a sling bag. The great thing about the colour mint is that it goes well with almost any colour. So no matter what colour your outfit is, you can always carry your mint coloured bag with it and not have to worry about whether or not it goes with your outfit.
[sc:mediad]
Jewellery
Jewellery in mint colour work so well with white and other pastel shades. Conversely, you can also wear your mint coloured jewellery with black and other dark shades. So the colour is quite versatile and you can make it work any which way you want.
Ethnic Wear
While pastel shades are always popular when it comes to western wear, Indian wear has always been more inclined towards the use of bold colours. We love wearing reds, oranges and other such colours that are loud. But surprisingly, the colour mint has been adopted by lots of Indian designers in recent times. What is even more surprising is that the colour actually looks really great when used for lehengas and kurtas.
Apart from clothing, accessories and makeup, you can also incorporate mint into your home. From your furniture to your kitchen items, you can sneak in mint to brighten up your household and give a fresh look.
Mint is a colour that seems to translate so well when used in accents. So use it sparingly to bring the most out of it. With regard to your outfit, make sure you do not go overboard with it. This means that if you're wearing a mint coloured dress, then make sure your accessories are of a different colour. Avoid matching or going for the monochromatic look when dealing with mint. Your aim should be to let mint colour be the focus, not overpower the look with so much mint that the colour loses its value.