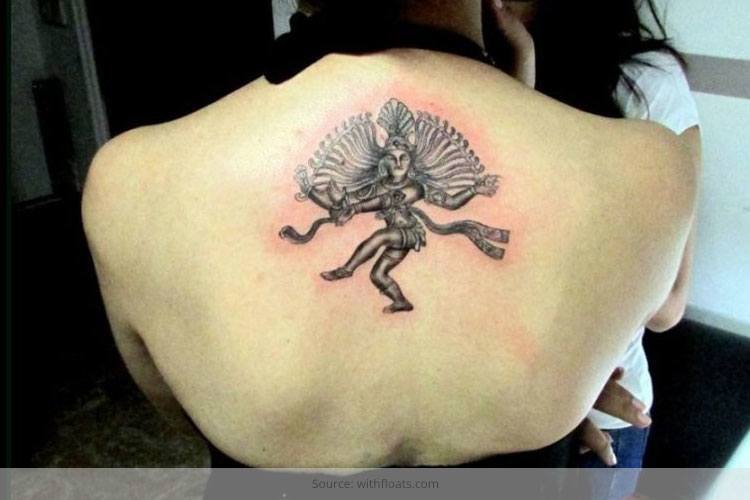 Skin flaunting is the new age tool to looking bold and beautiful. And tattoos can't be left behind. Wear a noodle strap dress or pixie hair cut but when you have the tattoo on your arms, shoulders, thighs, legs or neck, your sexy quotient would climb up many bars.
Tattoos are the in thing these days amidst the young generation. Recently, we came out with a post on Top 10 Tattoo Artists in Bangalore. Now, check out 10 best tattoo artists in Delhi and prove your love and madness for this form of body art.
1. Devil'z Tattoo Centre
This is one of the best tattoo parlours in the Capital as well as in India. Owned and mastered by Lokesh Verma, the Devil'z tattoo centre was founded by him when he was nobody. With his amazing skills in town, his tattoo parlour picked up and got him to fame. Mind you Lokesh is a self-trained tattoo artist. Mostly young customers visit him and throng to his parlour throughout the day. He has three branches – GK 1, Rajouri Garden and Gurgaon. Interestingly, none of the tattoo materials are reused and safety is a prime thing looked into which explains why Lokesh's expertise is growing far and wide.
[Also Read: Tattoo Artists in Mumbai]
Address: M 53, Main Market, Greater Kailash I, Delhi – 110048.
2. 3D Tattoo Studio
Ah….this studio has very recently opened, but that doesn't deter it from giving competition to renowned tattoo studios in New Delhi. 3D Tattoo Studio specialises in virtually all kinds of tattoos. In fact, such is their grip on the field of tattoos that they make old, worn out tattoos look better and bright. Incidentally, the tattoos that are made at this studio also hide scars which is a major plus point.
Address: A-454, Defence Colony, New Delhi, 110024.
[Also Read: Top 10 Black and Grey Wrist Tattoos]
3. KDz Tattoo
This might not be the famous, but KDz Tattoo happens to be the largest in Delhi. The interesting thing about them is that apart from making tattoos, they train people who wish to make tattoos. Now this can be of excellent help and a learning experience if you wish to start out your own tattoo parlour some day. KDz Tattoo has two branches in Delhi. Don't you wish they had more parlours so that you could go across and get your tattoo done?
Address: Block S, DLF City Phase III, Gurgaon – 122010, Near Neel Kanth Hospital
4. Angel Tattoo Design Studio
If the name is Angel, the tattoo designs would be angelic too. A registered tattoo parlour in Delhi, Angel Tattoo Design Studio brings you exclusive designs in tattoos whose copyrights are protected. It means you will get unique designs without the fear of them getting copied. Angel Studio has two branches in Delhi itself and the third one is in Gurgaon. So you can go over the weekend to Gurgaon to get your tattoo done. Not a bad idea, what say?
[Also Read: Eyebrow Tattoo Trend ]
5. Art and Skin Tattoos
This is a good outlet to get your tattoos done. The best thing about this place is the hygiene that's practised here. Customer service is on time and satisfactory. The talented artists here make nice and innovative tattoos.
[sc:mediad]
Address: S-3 2nd Floor, Pankaj Plaza Community Center, Opposite Dayanand Vihar (East Delhi).
6. Tattoos by Dev
Tattoo lovers would love this place too. Apparently, Dev brings out superb designs from his kitty that would blow your mind out. Try it out!
7.Cheena Tattoo
The purpose of a tattoo is to look creative and innovative. Cheena Tattoo is a body art studio in Noida that offers ambigrams and 3D tattoos. The artists are well trained and of high standards. Apart from tattoo service, Cheena Tattoo has shisha too that gives a relaxing atmosphere while the tattoo is being inked.
8.Tattoos by Mohit
This is yet another wonderful place to get inked. Tattoos by Mohit observe safety and hygiene in body art. It is equipped with all the facilities that a good tattoo parlour needs.
Address: F 130/4, Sudarshan Cinema Road, Gautam Nagar, Delhi – 110049, Near Gurudwara
9.Tattoo Villa
Situated in Lajpat Nagar, this tattoo parlour offers a bouquet of tattooing services starting from 3D tattoos to Ambigrams. Innovative and out of the box, the tattoo designs at Tattoo Villa makes it a perfect place to ink your body.
10.Scorpio Tattoo Inn
Hop across to Rohini in West Delhi to get your tattoo done. Their designs are unique and the ambiance is friendly too.
Get yourself inked in tattoo in the Top 10 places in Delhi and send us a selfie. Remember, fashion is about sharing too.