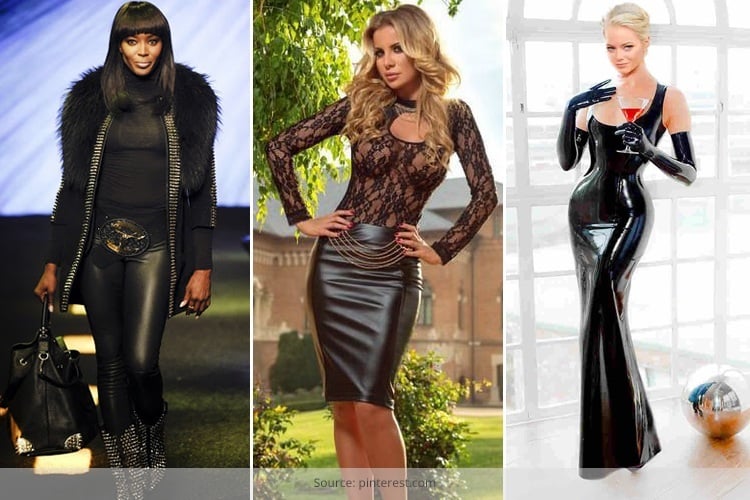 Leather and latex, quite unconventional fashion fabrics the world is yet to get acclimatised with. Apart from celebrities, and owing to the climes we live in, leather and latex are the least worn fabrics. But when worn right and with a sense of attitude and style, the two individually or in sync can make heads turn!
[Also Read: Fall Winter 2015-2016 Color Trends]
Leather Fashion and Latex Fashion
Check out Eva Longoria in all leather!
Leather in Winter – Let's Have Some Fun
What about wearing a pair of tight-fitting pants, made from elegant and sexy leather? Or maybe, just maybe that sexy leather cocktail dress for the events you have been invited to? Furs and studs embellished on them, with pretty belts quite wide on the waist and plates made from metal. Dolling up like Naomi Campbell in leather pants as seen on the runway in Milano this year, so cool right? Brings back the Dallas ranch nostalgia or the cowgirls 80s look for sure!
Wearing Leather Apparel Is An Appreciating Art
No thoughts to disagree upon and no whims to deal with, the quaint touch of leather speaks of purity, fashion, royalty and structured meaning. There is a story told with every ensemble made from leather. It is a piece so timeless and a look so subversive, which makes people hate you like they love you. Leather is magnetic and so is latex, but only when you wear it right.
Latex and Leather Fashion Diaries
Latex is a fabric quite unique and full of fun to flaunt or wear, and unlike leather it isn't daunting too. You can wear latex dress to an event or any occasion, no matter how formal the social do is. Latex it sleek and much more than the hyped sexual overtones it brings, latex offers élan and grace to the wearer too.
[Also Read: How to Style Leather Pants]
Catwoman to the Matrix and the famous Underworld gang, female characters in such movies have shown us the alluring and sexy ways of latex, which isn't tough to sport or flaunt – an alternative to leather.
[sc:mediad]
Leather and Latex: Mini-Skirts to Lingerie
Start small when dowsing in leather and latex fashion, and start alone or discrete. This would help you gain confidence and comfort too. Wear a mini skirt, panties or maybe gloves to turn on the night saga with him, and allow the feeling of leather or latex against your skin, tell him and you a story. The experience unfolds as you play along, and you'd fall in love with the fabric too. This would thus be an impetus to move ahead to bigger items, maybe a cocktail gown in latex at a later stage!
[Also Read:  African Street Style]
Where to Wear A Latex Dress?
Honey, the choices are unlimited, but keeping the Indian society and fashion statements in mind, we would ask you to pair the leather or latex numbers with various looks. Possibly a flowy dress with shiny leggings when out on dinner and a leather jacket to layer!
A Few Statements to Flaunt
Wear it to a party on a Friday if need be, but do try leather or latex once. What about a black pencil skirt and a black net top with black heels for the feet, all in leather or latex!
Flaming Red Leather and Latex for Winter Parties
A sexy latex red cocktail dress for the party nights that come calling when the winds blow hard and cold, why not? Flame it up and stir the heat around!
Grey Tops And Leather Leggings
An everyday casual chick look, make it chic with leather leggings. Pair it with a grey top and go wherever you want, but get ready for the accolades to pour in as well!
[Also Read: How to Maintain Leather]
Control The Gaze Out There
For sure there would be many who wouldn't want to maintain eye contact, but then there are those who would turn 360 to see you walk down the street in chic or haute leather and latex numbers. Attraction, power, sensuality, sexiness defined, bold roars, animalistic and quite the regal touch flaunted too, leather and latex can make you a diva in a jiffy!
[Also Read: How to Combine Leather and Lace]
We shall tell you more the next time though, but for now, do experiment and let us know how you like the feel and the look in either or both leather fashion and latex fashion.
Share your experience with us! We would love to hear your side of the story.