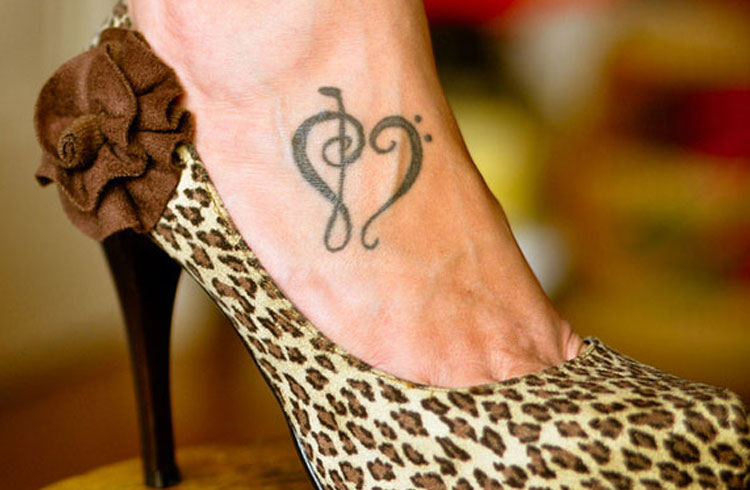 In all the dissimilaries we share, one thing that runs common among people of all countries, communities and races is the love of music. Music has its own forms, but in its vividness it appeals to everyone. And there are some who take their love for music to a whole new level. Some of them immortalize this love on their bodies as tattoos.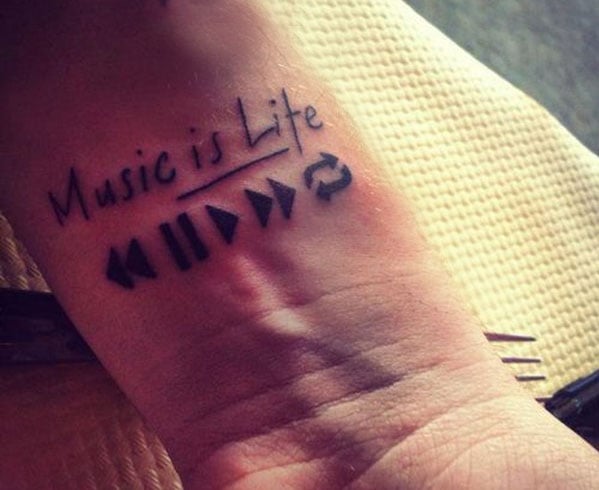 Music tattoos have since become the new rave, somehow tattoo lovers believe that these art forms would elate them into a whole new level of cool. Whatever is your personality or gender, there is one music tattoo that sits perfectly in your persona. Let's check out a few.
[Also Read: Pretty Celebrity Tattoos With Meanings]
What comes to your mind when you think of natural music? A stream tinkling down, raindrops hitting the ground and little birdies chirping early in the morning. This swallow bird tattoo design displaying musical notes all over its little body and wings are very suitable for a woman's chest, and represents the most organic form of music.
Looking around for some real macho music tattoo ideas for all the macho music lovers, how about this old Vintage gramophone on your leg? The dated instrument is a hint at your taste for the classics.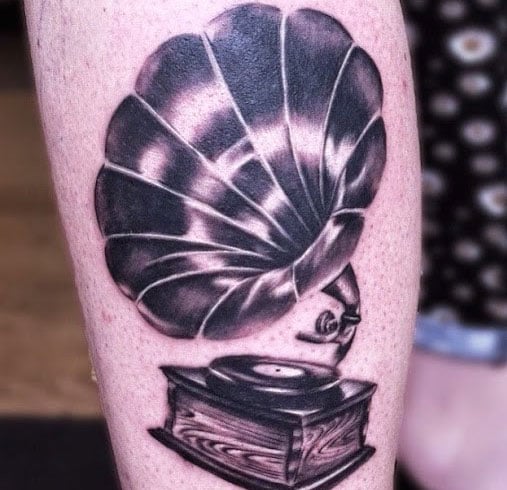 Now, not that I am trying to gender stereotype, but girls mostly like to get cute with tattoos. So if you are looking for endearing music note tattoos try out something like this on your upper back.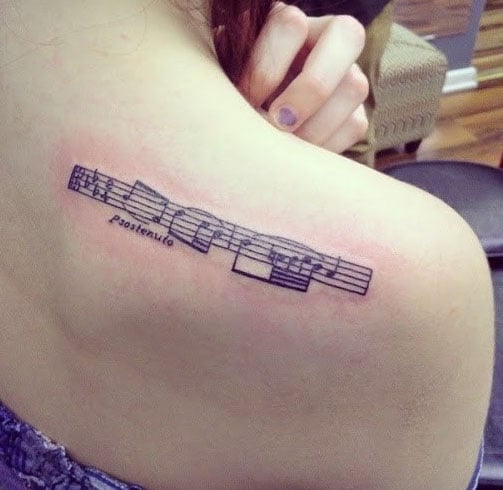 Justin Bieber has had a massive influence on the music industry and his fan following consists majorly of young boys and girls. He has been ruling these young hearts for quite some time now – for good or for bad- let's not get into that debate here. If you are a Belieber and you can't stop yourself from thinking of getting the sleeve done – have you considered a music tattoo sleeve yet?
[sc:mediad]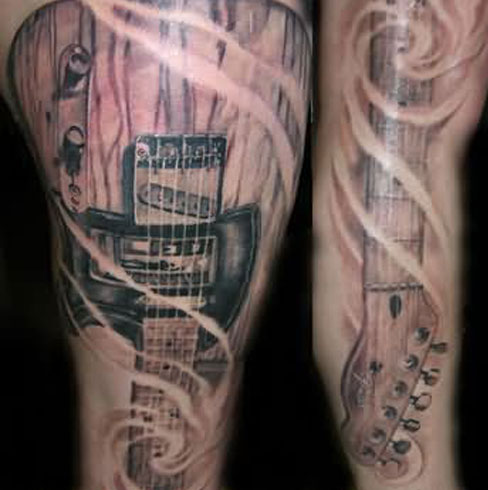 While staying in the topic of music tattoo, we have to talk about how trendy are the bass clef tattoos. The main attraction of these ink marks are hat they are equally attractive on both men and women. So if you have a fondness for the bass clef, it's your time now. You can go for something huge or settle for something sublime – in both cases it's very appealing.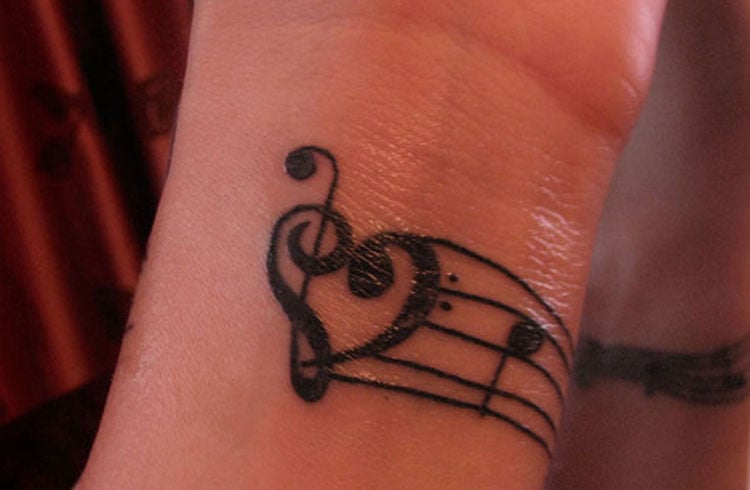 Of all music tattoos what's trending the most is the treble clef tattoo. It works for both men and women and one may where it on any part of the body – arm, back, ankle – you name the place and your tattoo artist would draw you one.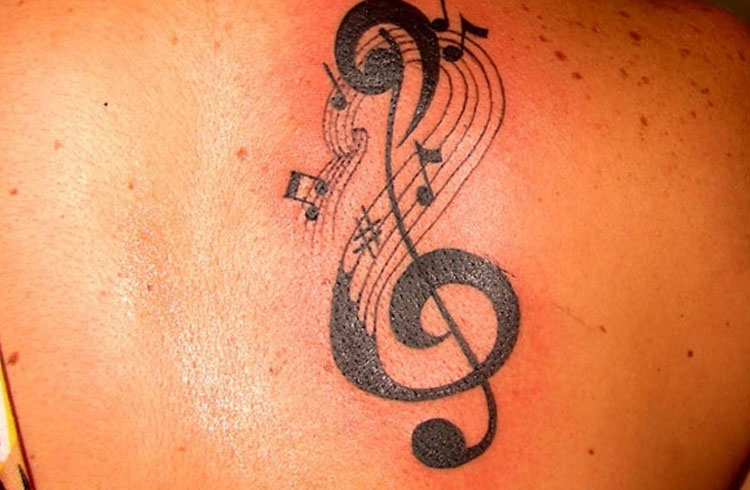 However, for your back we recommend the sheet music tattoo. Reason being your back provides for the uninterrupted even real estate a sheet music tattoo would occupy. The second best place to get your sheet inked is your abdomen.
[Also Read: Ideas For Small Tattoos With Meaning]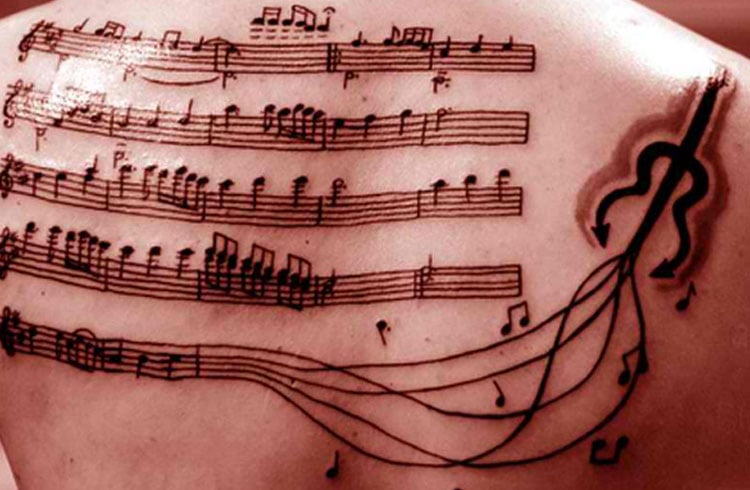 But if you want to go for little notes only, you might try some music note tattoos on wrists. Again, this trend is unisexual in nature and anyone can rock it with confidence.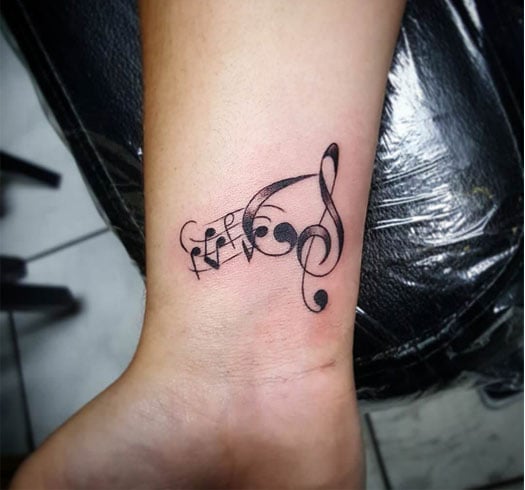 By the way, have you considered getting a music tattoos on your neck? That would be some kind of swag, wouldn't it? If you would like you can explore the options available amply on the interwebs. However, we are here to help you out with some ideas.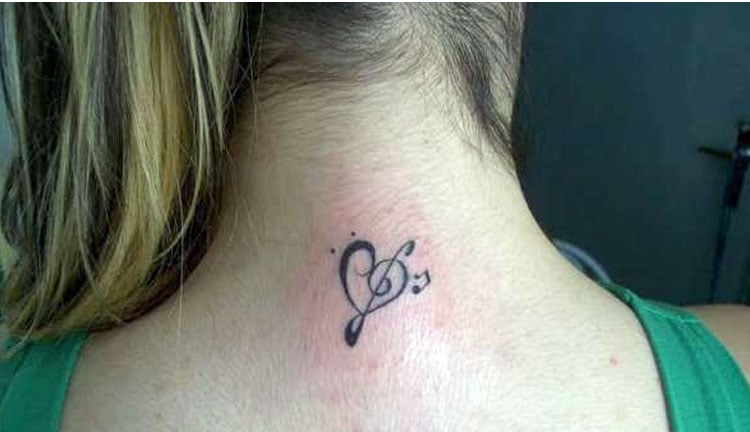 Try something funky by getting a music tattoo on your ears. That's is the sense of your body that gives you the pleasure of music, but most of the time people ignore it as a spot for tattoos. Look, these guys didn't neglect it and see how cute they are.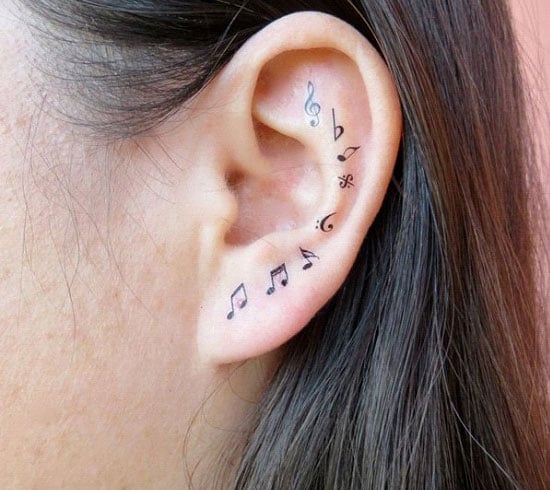 It would be equally adorable to flaunt some good taste in music via your fingers. The tiny little music notes will sit adorably on those slender fingers.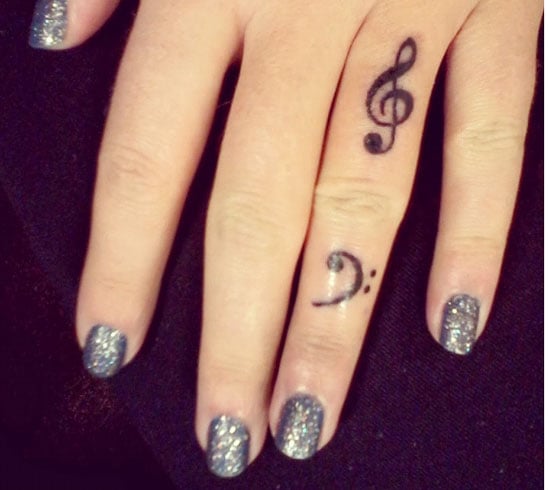 Tattoos are a predominant part of pop culture and thus some of the best music tattoos can be seen on popstars from Hollywood, they have really taken their tattoo game up. Selena Gomez, Justin Bieber, and many other songsters who swear by music, wear their passion on their bodies. Here are a few of the celebs we talked about, showing off their permanent ink babies.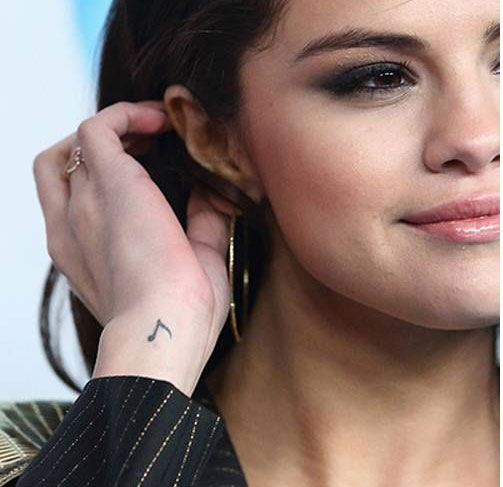 The beauty of music tattoos is that they never get old. Music is going to stay as a dominant part of human lives. So even if you try out any of the music tattoos ideas we shared with you, it's safe to assume you won't repent your decision even when you turn 80.
Images Source:tattoostime.com