She smiles like a Flower. She is nature's most beautiful creation. Who is she? The answers are not that hard to figure out. It is both a woman and flower jewellery in this case. When they come together, there is sheer magic and beauty all around.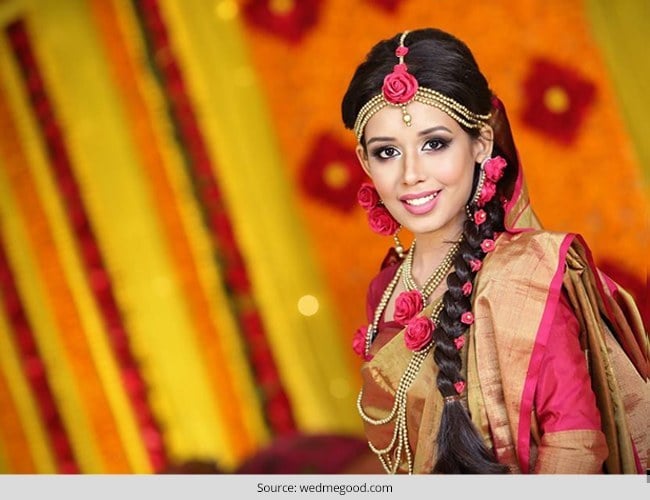 A woman can look all the more beautiful if she is bedecked with jewellery creations having floral motifs. A case in point is celebrities such as Aishwarya Rai Bachchan, Vidya Balan and Twinkle Khanna who wore beautiful fresh flower jewellery for mehndi and their respective traditional ceremonies.
Flower Jewellery For Haldi:
Vidya Balan in Floral jewellery: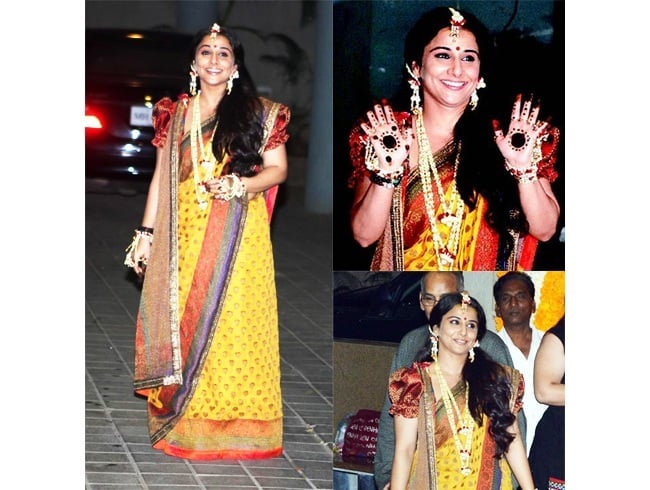 Aishwarya Rai in Floral Jewellery for Mehndi: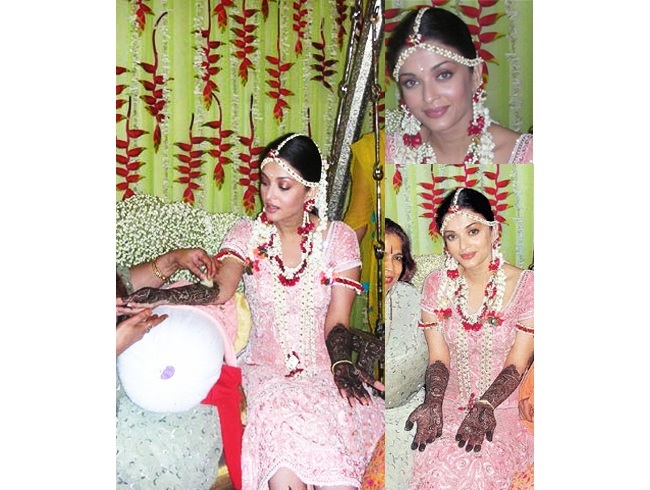 Custom & Tradition of Floral Jewellery:
The trend of wearing floral jewellery is ancient and has been associated with Indian tradition since ages. Today with the extensive depiction of it in fashion shows, TV soaps and films, the demand for floral jewellery is picking up. So much so that it has become the latest fad among the young brides.
[Also Read: Hathphool: Jewellery for your Hands]
Types of Flower-based Ornaments:
There are many ornaments that can be made from fresh flowers which include small gajra or even a long plait decoration for the hair, a floral tiara, maang tika, maangpatti, neck pieces-choker or a long haar or flower necklace, flower earrings, dangler earrings, armlet, bracelet, waist-belt, anklet, bangles and so on. As per individual preference, they can be customized to traditional or contemporary style.
There are a variety of flowers that can be used to make exotic and fragrant pieces of ornaments. Most popular ones are mogra flowers, roses, jasmine and carnations. At times even rajnigandha is used. Some ladies demand exotic varieties of flowers like spider orchids, cymbidiums, button daisies and others. One has to keep in mind that flower size has to be kept small in order to maintain the delicacy of the ornament. So for a traditional look, flowers like mogra and roses are used. Whatever be the choice of flower, it should gel well with the colour scheme of the dress. Precautions have to be taken in using exotic flowers as the overall impact may not fit into the design element.
[Also Read: What colors to wear for Mehndi]
Flower Availability:
[sc:mediad]
The availability of the flowers is another issue to be kept in mind. The date and season of the wedding also is significant in deciding the kinds of flowers to be used for the jewellery pieces. Though chandni, mogra and Indian Rose are easily available, they have to be refrigerated whereas other flowers have to be imported such as the English Rose and some exotic Carnations and Orchids. Indian flowers are usually available in Maharashtra, Tamil Nadu and Karnataka, whereas flowers like Orchids are imported from Thailand.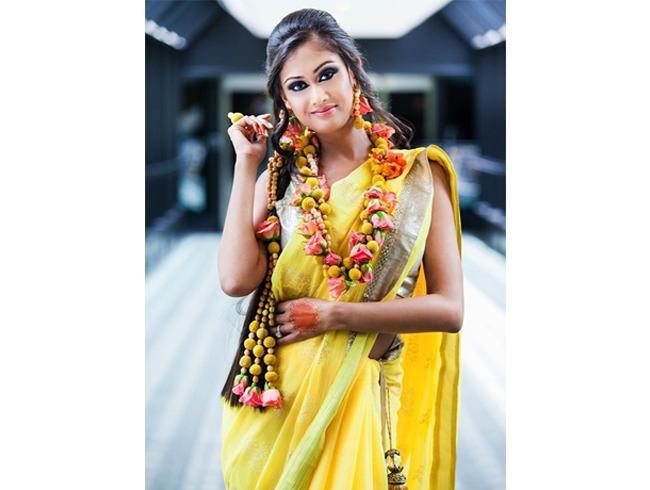 Floral Designs:
Most of the jewellery makers have set patterns and designs of flower jewellery which are shown to their clients. Though there are printed catalogues, e-catalogue and mails are sent to prospective clients to select the items of their choice. A lot of times, designs are also innovated from time to time as per new trends. They are all made to order pieces. The price range also varies depending upon the flowers and the embellishments used. Sometimes other embellishments such as pearls, beads, small stones and crystals are also added to flowers so that even if a few flowers wither away, the beauty of the jewellery still remains intact.
Future Trends:
The tradition of fresh flower jewellery is not going anywhere. On the contrary it is growing. The jewellery can be customised entirely according to the colour palette, embroidery on the dress and the mood of the event. Clients also demand floral jewellery for bridal showers, baby showers and theme parties. People are looking for unique ways as an alternate to heavy and mundane gold jewellery.
[Also Read: What to wear for Baby Shower]
Let's look at a few more fresh flower jewellery designs for inspiration: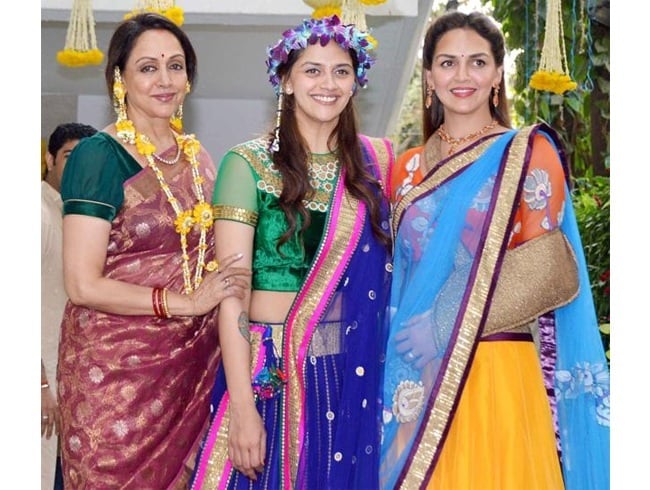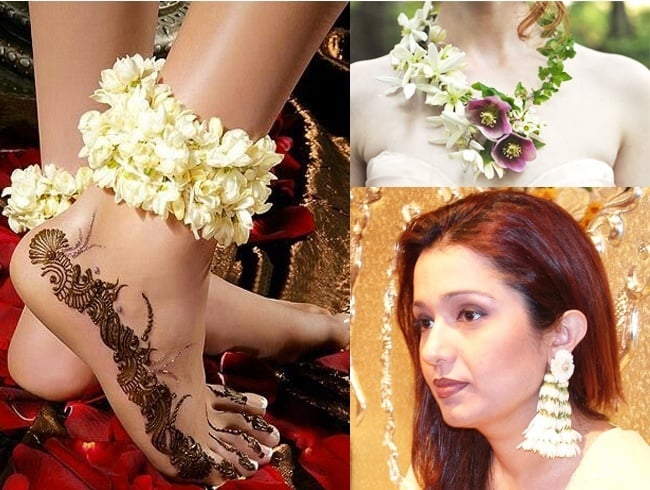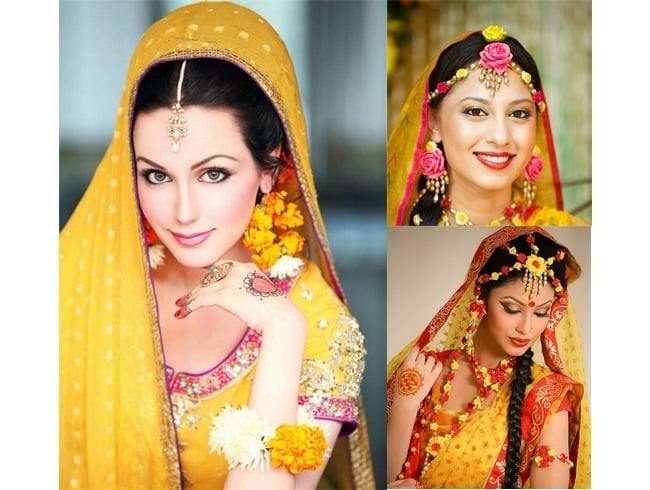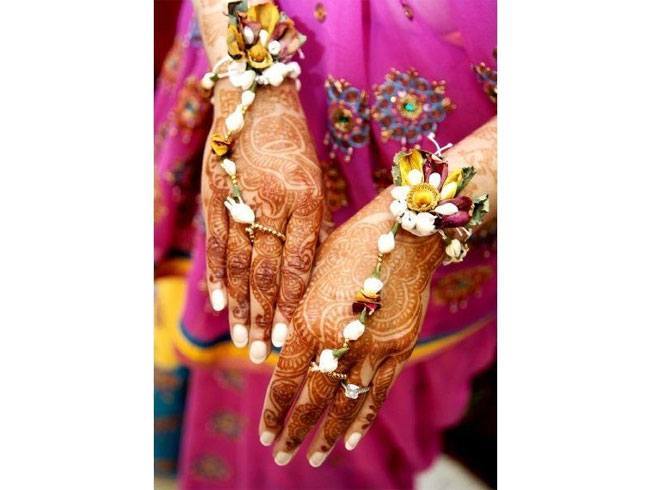 The art of floristry is a very creative, unique and intricate one. And when it is adapted to jewellery, then the joy of wearing it doubles up.