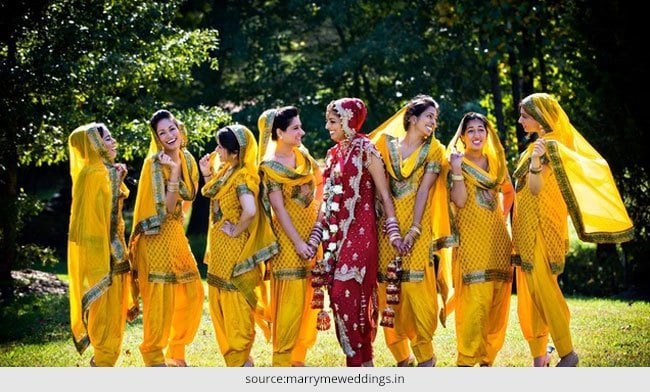 The moment I get an invitation to an Indian wedding, the first thing I do is to check the date. And if the wedding is in any day between March and June then the first question that comes to mind is what to wear to an Indian summer wedding.
The wedding season in India has been revived these days, with brides and bride grooms stretching their weddings into spring and summer as well. With scorching sun, summer weddings are pretty uncomfortable, especially if they are during day.
[Also Read: What to Wear to a Best Friends Wedding]
While many drop the idea of looking gorgeous in hot summer weddings, I rather suggest you to dress as per the season even though it can be a challenge.
Let's find out what to wear to a summer wedding!
Here are some basics to follow
1. No black or white to wedding
Wearing pure black or white to wedding is a strict no to Indian weddings. While white is not appropriate for auspicious events in India, black can put you on fire in the scorching sun.
2. Don't give a chance to peek-a-boo
Since you are attending an Indian wedding, modesty should always be your priority while getting dressed for the event.
3. Do not wear revealing dresses
Even you should avoid wearing anarkalis with deep necks and lehengas with backless blouse designs or noodle straps, as they may hurt people's sentiments.
Keep your body-hugging outfits and strapless dresses for some other occasions.
[Also Read: Shortest Celebrity Marriages]
4. Save the jeans for another time
Forget about ladies wearing jeans, I just don't appreciate men in jeans at weddings. Most of the time, I see men lacking proper dress codes for weddings. And for girls, it's a strict no. Better keep your jeans and tops to hang out your friends and watch movie with your beau.
[sc:mediad]
5. Always emphasize on accessories
Appropriate accessories can also dramatically enhance the beauty of a mundane outfit. However, always make sure you do not overdo it. If you are wearing heavily embroidered outfit then minimize your accessories to avoid sweating and discomfort.
6. Preserve religious sentiments
If you're attending Sikh weeding at Gurudwara or Muslim wedding then you'll have to cover up your head. So never show up without your dupatta, or else carry a scarf along-with you to the event.
[Also Read: Backless Wedding Dresses]
7. Pick summer fabrics
Since it's summer in India, you cannot discount the fact of fabrics while picking the outfit for summer wedding. You can wear dresses made of cotton, linen and also rayon. Avoid wearing synthetic and silk as they may make you feel suffocated in heat. Rayon, which is a semi-synthetic fiber allows your body to breathe unlike polyester and silk which tend to retain heat.
8. No full sleeves or high neck
You should always take care of your comfort before fashion. Avoid wearing anarkali suits with long sleeves or saris with high neck blouse designs. You should pick outfits in chiffon, georgette, light silks and fine cottons.
Here is a tip: if your sari is heavy then go for a less or no embellished short sleeve blouse and if you're looking for embellishments then keep the bodice plain with embroidered short sleeves.
9. Don't let loose your strands
Think practically. Even if loose strands can gain you lot of attention and make you look gorgeous; you're surely going to feel exhausted soon. The heat along with humidity will surely zap your long tresses, leaving behind nothing but crumpled mess. So, opt for messy buns which not only will look fancy, but you will also not have any uncomfortable moments with your loose hair strands.
10. Go soft on makeup
Since its summer wedding, go for sunscreen-based foundation or BB cream that lets your skin breathe. Avoid wearing matte, instead embrace the summer glow. Use shades like apricot, warm caramel-ey beige, soft pinks and peach for your blush. Don't forget the sun block for your body.
Hope this post on what to wear to summer wedding helps you in dressing up appropriately for the event.